A Water Sensor Circuit for the Tree
With a bit of creative engineering, a simple circuit can do double-duty as a fun decoration and a helpful water-level monitor!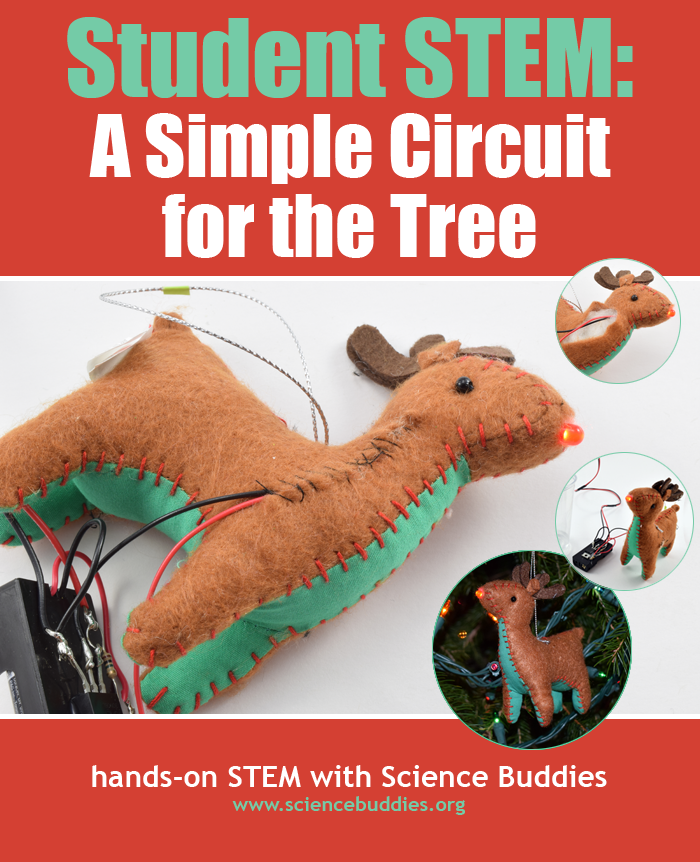 Student STEM: A Simple Circuit for the Tree. Hands-on STEM with Science Buddies. www.sciencebuddies.org
Creative Engineering
When faced with a problem, engineers come up with solutions! Keeping a cut holiday tree watered is important for preserving the life of a fresh tree, especially during dry winter days. With a bit of crafty science and engineering, our staff scientist added a circuit with a sensor to a simple holiday ornament to help him keep track of when his tree needs water.
If the tree is low on water, the Rudolph ornament lights up.
Making Connections
Students can experiment with sensor-based science and circuit building using the Sensors Kit from the Science Buddies Store. To build a monitor similar to the one used in our engineer's Rudolph ornament, students can explore the circuit shown in the Green Technology: Build an Electronic Soil Moisture Sensor to Conserve Water project.
You can place your finished ornament anywhere you want on the tree, provided the probes can reach the water in the tree stand. Use duct tape or heavy-duty tape to secure your probes to the stand at the level you want for the light to go on or off. For an overview of the setup, see Figure 3 in the project.
(Note: to build an "ornament monitor" similar to the one shown, using a soldering iron is recommended for a more durable circuit that can hang on a tree.)
Learn more about the Electronic Sensors Kit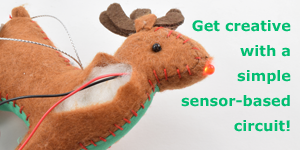 Categories:
You Might Also Enjoy These Related Posts:
Explore Our Science Videos
Making Shadow Puppets – STEM Activity
Volleyball Machine: 2019 Fluor Engineering Challenge
Hydroponics in a 2-Liter Soda Bottle – STEM activity.