Three new Science Kits for K-12 STEM
Science kits from Science Buddies make getting the right specialty items easy. New kits are now available for popular bath bomb, magnetism, and chemical reaction projects. What will your students explore?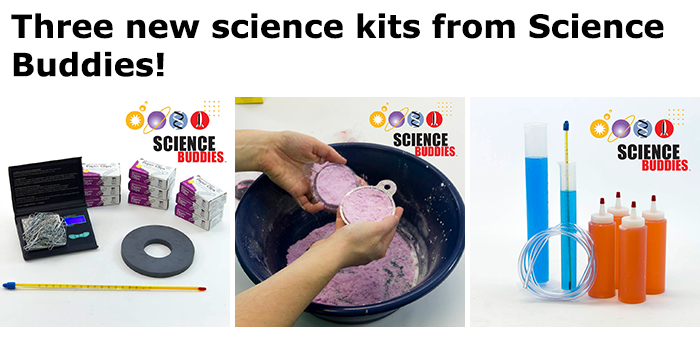 Three new science kits from Science Buddies!
When it comes to student science projects, Science Buddies has more than 1,100 engaging scientist- and engineer-authored ideas for students, and our Topic Selection Wizard helps students discover projects that match their interests. All project ideas at Science Buddies are free for student use, and the list of materials required varies by project. Science Buddies' search tool helps students filter projects by the estimated cost of materials, and in many cases, the materials needed for a project are easy to find and purchase. With more advanced or specialized projects, however, finding the right supplies can be more difficult. Since having the right supplies can make the difference between a project working or not, Science Buddies has a line of science kits designed and tested specifically for Science Buddies' project procedures. All Science Buddies Kits are sold exclusively through Home Science Tools.
Exciting New Science Kits
The following kits are new to the Science Buddies line of kits:
Magnetism and Temperature Kit: What can you do with two thousand paperclips and an enormous magnet? A science experiment about magnetism and temperature! Use the How the Strength of a Magnet Varies with Temperature project at Science Buddies to find out what happens to a magnet's strength when it gets hot or cold.

Bath Bomb Science Kit: Making fizzy bath bombs is a fun (and useful) DIY project. It can also be a great science experiment! With the Bath Bomb Science project, students learn more about chemical reactions and acid-base chemistry as part of the process of making their own bath bombs. How does changing the amounts of different ingredients affect a bath bomb's fizziness? What does it take to make the best bath bomb? Make your own to find out!

Measuring Gas Production Kit: With this kit, students create a chemical reaction and then capture the resulting gas. The kit can be used with the following projects:
Check the Project Requirements
Science Buddies Kits come with specialty materials, but most projects also require additional materials that are easy, and often cheaper, to find locally. All projects that work with a science kit note the supplies that come in the kit and additional supplies that are also required. Check the "Materials" tab on individual Science Buddies projects for a clear list of supplies needed.
Convenient Science Kits
Science Buddies has science kits for a range of popular K-12 STEM explorations, including projects in robotics, engineering, nanotechnology, and biochemistry.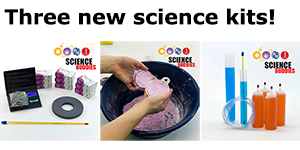 Categories:
You Might Also Enjoy These Related Posts:
Explore Our Science Videos
Can You Drink From a Really Long Straw?
Make Fake Snow - Craft Your Science Project