Can You Harvest the Moon?
By Kim Mullin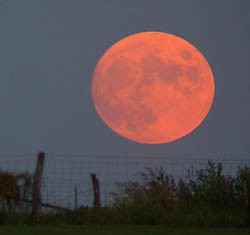 The large Harvest Moon is a full moon different from all others in the year. It is followed each year by another "different" moon, the Hunter's Moon. Source: Wikiepedia.

Although most of us don't live on farms,
harvest
is something we think about in the fall. We decorate with pumpkins, gourds, and multi-colored corn when we celebrate fall holidays. And, in the United States, many of us eat a hearty meal on Thanksgiving Day to commemorate the Pilgrims' first harvest celebration in 1621.
You may have heard of the Harvest Moon, but the moon certainly isn't something we can harvest! It is actually a term to describe the full moon that is closest to the autumnal equinox. It happens at a time of year when farmers are busy harvesting crops—thus the "harvest" moon.

Phases of the Moon
The full moon is only one of the moon's phases during each lunar cycle. You may know that the moon plays a role in the ocean's high and low tides. But does the "phase" of the moon matter? In The Moon and Tides project, students can investigate the correlation between phases of the moon and the tides. Charting the tides in relation to the phases of the moon over a year lets students track the differences in tides during a full moon and a quarter moon, for example.
Do the phases of the moon also effect agriculture? Do plants need moonlight to stay healthy? Do they grow better when planted during a particular phase of the moon?
Thanksgiving is still a few days away, but the Harvest Moon for 2011 happened a few months ago! Still, these are questions students and families might consider as "harvest" comes to the table and the fall harvest season begins to ebb.
Categories:
You Might Also Enjoy These Related Posts:
Explore Our Science Videos
Make a Slushy! Yummy STEM Project
How to Make an Archimedes Screw - STEM Activity