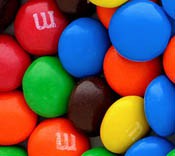 Brightly colored candies in your Halloween bag might be the key to your next science investigation! Image: Wikipedia.

Trick or treat! Today's the day! But what will you do with all the candy you accumulate going door to door in this year's costume? Can you really eat
that
much candy? After the initial excitement of dumping your bag of sweet loot in the floor, sorting it out, exclaiming over favorites, maybe making some sibling trades, and eating a few more than usual pieces of candy for the day, what will you
do
with all of it?
You might just find that your next science project is lurking there at the bottom of your bag!

Candy Appeal
Beyond the sugar, part of the fun of a candy is how it looks. It may taste great, but the success of a candy also depends on features like shape, color, and size. Food developers really have to think about the appearance of the candy. Will it catch your attention? If it does, you might choose it over another candy, which is what candy marketers want.
Many candies have brightly colored shells or coatings. Even if they all taste the same, a handful of a single kind of candy might contain a number of different colored exteriors. Those bright colors are made up of various dyes. Your favorite candies may melt in your mouth and not in your hand, but with a bit of science, you can figure out what dyes were used for each color.
Chromatography is a technique used to separate a mixture or solution into its individual components. So instead of seeing just the end result (the sum of all components), you can backtrack to find out what ingredients were used to make up the final solution—the color, in this case.
In the Candy Chromatography: What Makes Those Colors? food science project, you can experiment with paper chromatography to investigate the colorful exteriors of favorite candies. Once you have a bit of practice analyzing colors of a single brand of candy, try comparing two favorite coated candies. Are the reds the same?
Categories:
You Might Also Enjoy These Related Posts:
Explore Our Science Videos
Colorful Melting Ice Ball Patterns - STEM Activity
Explore Concave and Convex Mirrors– STEM Activity.
Marble Roller Coaster Science Project