Crowdfunding: Fundraising Ideas and Tips for Teachers
What if there was a way to purchase materials for your classroom without having to spend your own money? Crowdfunding may be the answer! Find out tips and tricks other teachers use to successfully crowdfund for their classrooms.

By Lily Arendt and Tina Lanese
With classroom budgets dwindling, teachers face an uphill battle to find funding for classroom supplies. Common bake sales, penny wars, and hat days may work for some, but other teachers find these stressful and not worth the time and planning required. To explore how teachers approach fundraising, Science Buddies sent out a recent survey to learn the ways in which teachers secure materials for their classrooms. In the survey, Science Buddies discovered that only 5% of teachers use crowdfunding, or online fundraising platforms, to raise money for classroom needs, even though teachers who use crowdfunding have had great success. So we set out to talk to teachers to get their advice on crowdfunding to raise money for school supplies.
What is crowdfunding?
Crowdfunding is a method of raising money online that involves creating a campaign for a project you'd like to have funded. Through the use of social media and crowdfunding websites, the projects you create have the potential to reach thousands of donors outside of your own network.
Two very common and teacher-friendly crowdfunding platforms are DonorsChoose.org and GoFundMe.com.
Why use crowdfunding?
Crowdfunding is a great option when you need classroom materials, money for field trips, or even professional development.
The platforms make it easy to create a fundraising campaign; just follow their step-by-step instructions.
It's an alternative to applying for grants. The process is typically quicker, and the projects you choose to fund don't have to fit specific guidelines commonly required by grants.
What could you have funded through crowdfunding?
Science Buddies teachers have successfully used crowdfunding sites to raise money for projects including:
3D-printers
Programmable robots
A laptop
Potato Battery Kit
4D model of a frog
Water testing equipment
Plant growing station
Various other science supplies
Crowdfunding Tips
We asked Science Buddies teachers who found success through crowdfunding to share their best-kept secrets:
When deciding on a project...
The dollar amount you choose is important and can be a pivotal factor that determines whether your project gets funded.

Increase your odds of funding with lower-priced projects. While multiple Science Buddies teachers found success posting projects that were $400 and under, Donorschoose.org notes that "projects under $200 have a 90% chance of being funded, while projects over $1000 are funded only about 43% of the time." A lower-priced project may look more appealing to donors who want to make an impact—they might even fund the entire campaign!
Post multiple low-priced projects instead of one big one. If your goal is a class set of fifteen robots, create multiple campaigns for one or two robots since smaller campaigns are more likely to be funded than a single large one.
Stick with a lower dollar amount if you don't have a strong network. Some crowdfunding websites have a specific time frame in which your project must be funded. For example, Donorschoose.org only allows you four months, while GoFundMe.com has no time limit.

Don't let your school's socioeconomic status deter you. High needs schools get more press on crowdfunding websites and are more likely to be funded by people who want to make a difference.
Tailor your projects to fit the available sponsor campaigns or Match Offers on the crowdfunding platforms. Corporations and businesses will frequently sponsor crowdfunding campaigns that align with their own missions by matching funds raised or even donating the entire amount if you raise a specific dollar minimum yourself. Another Science Buddies teacher found great success on Donorschoose.org using Match Offers; she raised over $40,000 for her classroom through this method!
Make sure you know the rules for your school and district fundraising regulations before crowdfunding. One Science Buddies teacher said that in order to fundraise, she had to fill out a form and get approval from the principal.
While writing the project...
Make sure to be honest and clear in all representations. Do not try to polish your situation too much to make it sound grandiose. People want to help real classrooms with real students. So try and keep the buzzwords to a minimum.
Explain how the project will benefit your students. It is important to share how the project will reinforce their learning and help them in the future.
Be specific about the supplies you need and what you are going to do with them.
Once your project is posted... spread the word!
Don't be afraid to talk positively about yourself and your classroom.
When parents ask you what they can do to help, tell them to donate to your campaign.
Get the PTA involved and try to add information about your crowdfunding projects to school newsletters.
Add the link to your fundraising campaigns to the end of your emails with your e-signature. The crowdfunding websites will provide this URL for you.
Link your campaigns to your social media accounts. The crowdfunding websites will show you how to set this up. For example, after syncing your Facebook account, Donorschoose.org will automatically post to your Facebook page when someone makes a donation. This is a great way to notify your network and keep your campaign relevant.
Whether you are new to crowdfunding or a fundraising expert, we hope that these tips will help you find success in your classroom. Share this post with your friends, colleagues, or student's teachers! There may just be a person looking to support a classroom like yours right now.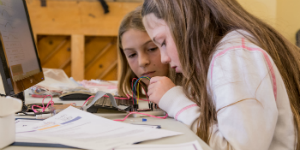 Categories:
You Might Also Enjoy These Related Posts:
Explore Our Science Videos
Strawberry DNA Extraction
Why Aren't All Medicines Pills?
Making False-Color X-ray Images with NASA Files from the Chandra Observatory