13 Activities and Lessons to Teach Potential and Kinetic Energy
Use these free lesson plans and hands-on activities to explore potential and kinetic energy with students!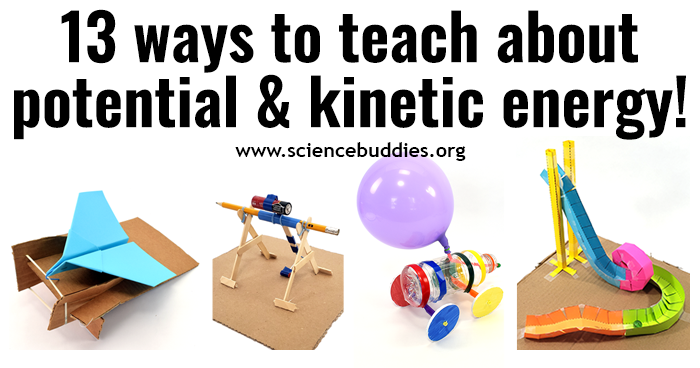 What happens when you stretch a rubber band and let it go? Why? Explaining how energy is stored and transferred and how that relates to the movement and momentum of objects in motion involves understanding potential and kinetic energy. This is an area of science where getting hands-on with the storage, transfer, and release of energy really helps students connect with what is happening. When students stretch something, and it flies into the distance, or roll a marble down a paper roller coaster and watch to see if it can travel up the incline of a loop, they see the science in action and can investigate, hands-on, how changing different variables affects the speed, distance traveled, or momentum of an object.
These activities and NGSS-aligned lesson plans help educators create hands-on learning opportunities to teach about potential and kinetic energy in the classroom, as part of remote learning, or for independent or family exploration at home.
Note: Science Buddies Lesson Plans contain materials to support educators leading hands-on STEM learning with students. Lesson Plans offer NGSS alignment, contain background materials to inspire confidence in teachers even in areas that may be new to them, and include supplemental resources like worksheets, videos, discussion questions, and assessment materials.
13 Lesson Plans and STEM Activities to Teach About Potential and Kinetic Energy
Related STEM Resources
For additional educator resources to teach about types of energy, the law of conservation of energy, forces, and motion, see:
Thematic Collections
Collections like this help educators find themed activities in a specific subject area or discover activities and lessons that meet a curriculum need. We hope these collections make it convenient for teachers to browse related lessons and activities. For other collections, see the Teaching Science Units and Thematic Collections lists. We encourage you to browse the complete STEM Activities for Kids and Lesson Plans areas, too. Filters are available to help you narrow your search.
Categories:
You Might Also Enjoy These Related Posts:
Explore Our Science Videos
Obstacle-Avoiding: BlueBot Project #4
Basic Circuits Kit: Conductors and Insulators