4 Ways to Teach Engineering Design
Teaching students about the engineering design process helps prepare them to do engineering projects and think like engineers when it comes to problem solving, troubleshooting, and brainstorming solutions and inventions. With a combination of free videos, lessons, and learning materials, you can choose the tools that best suit the needs of your classroom.
Teaching Steps of the Engineering Design Process
If you teach the scientific method to students, you know that many engineering projects don't quite fit those steps. The engineering design process (or engineering method) offers a similar set of steps for students working on engineering projects and inventions. Engineering design projects don't have a hypothesis to test. Instead, they have a challenge or problem that needs to be solved and, often, a set of design constraints that need to be taken into consideration when brainstorming and prototyping solutions.
One of the most important elements of the engineering design process is an emphasis on iteration. Using the engineering design process, solutions to meet a set of requirements are brainstormed, designs are considered, a design is prototyped and tested, and what is learned from the testing is used to improve and modify the prototype. This iterative cycle may continue a number of times as a product or solution is developed, tested, modified, and tested again. When something doesn't work as expected during testing, engineers iterate to find new or better approaches. Rather than looking at problems as failures, engineers use problems as touchstones for iteration.
Free Tools to Teach the Engineering Design Process
As you get ready to introduce or review the engineering method, these resources can help you reach students in different ways:
1. Engineering Design Process Videos
The Engineering Design Process: An Eggstronaut Mission video walks students through the engineering design process using an example involving designing a landing device for a fictional eggstronaut character. In the video, students follow along as the challenge (need) is outlined, background research is conducted, possible approaches are brainstormed, a prototype is made and tested, and then changes are made to the prototype to improve the device. The ultimate goal is a landing device that will help protect the eggstronaut. It may take many iterations of the initial design to create a solution.
Educators can watch the video with students in the classroom and discuss the steps or assign watching the video as homework. (Note: For Google Classroom educators, the video can be assigned using our button for Google Classroom.)
Two additional videos about the engineering design process are also available. To highlight the role of iteration, see the Iteration in the Engineering Design Process video. To help differentiate between the scientific method and the engineering design process, see the Which should you choose? Scientific Method versus Engineering Design Process video.
2. Engineering Design Process Video Lesson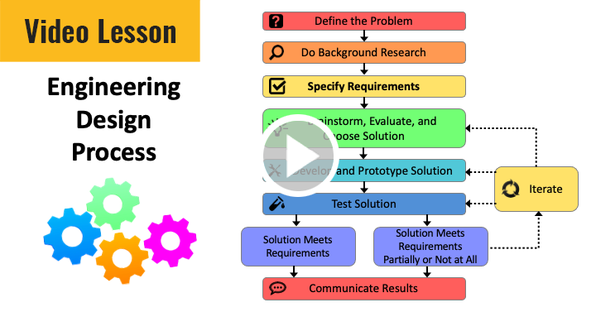 In the How Do Engineers Solve Problems? video lesson, Science Buddies teaches students about the engineering design process. The video lesson guides students in a hands-on activity in which they need to develop paper airplanes that meet certain requirements. By modeling steps engineers take, they learn the importance of specifying constraints and criteria for success early in an engineering task. The self-paced video lesson format allows students to follow along, pausing to do steps of the experiment and to fill in the worksheet.
3. Engineering Design Process Lesson Plans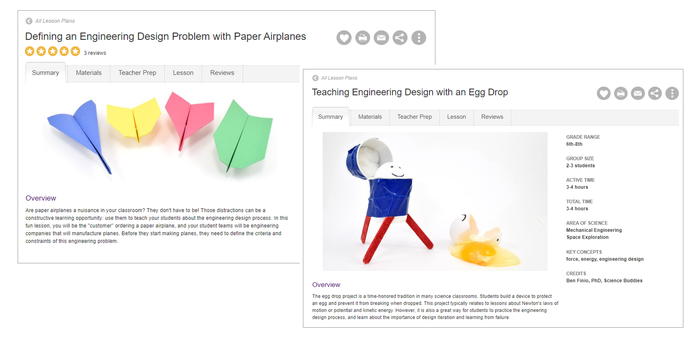 With our NGSS-aligned lesson plans, educators can teach the engineering design process in the classroom using hands-on activities that help students put the iteration cycle in action as they work through the steps of an engineering design project.
The following Lesson Plans help educators teach the engineering design process:
These lessons each offer an interactive, guided, hands-on activity that can be used to teach the engineering design process. Each lesson contains grade-level NGSS alignment, background information for educators, a hands-on activity, discussion prompts, a worksheet, and an assessment tool. To learn more about Science Buddies Lesson Plans, see How to Use a Science Buddies Lesson Plan.
(For a lesson that focuses on the brainstorming step of the engineering design process, see the Brainstorming for Engineering Projects using SCAMPER lesson.)
There are many other lessons at Science Buddies that use the engineering design process.
To find lessons and activities for your students, see the following grade-level collections:
Examples of K-12 engineering projects include:
For additional lessons, educators can browse all lessons and use the filters to limit the search based on grade, area of science, or other criteria. See also: 12 Engineering Design Challenges Perfect for Remote Learning.
The Science Buddies Engineering Challenge is an annual challenge for students in grades K-12. Each year, students are presented with an engineering challenge that uses a limited number of materials. The challenge takes place in February-March, is open to students around the world, and is typically announced in January. To be alerted when the new challenge is revealed, sign up for our free educator newsletter.
4. Engineering Design Process Project Guide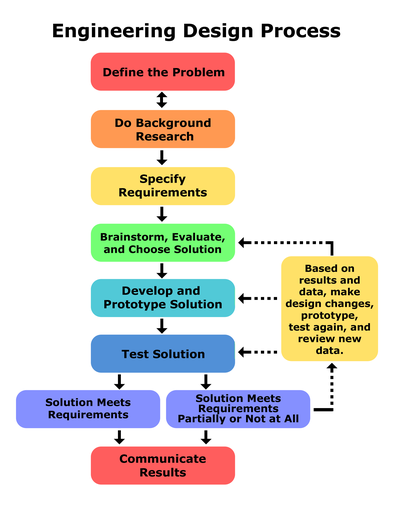 The Engineering Design Process guide can be used alone or in combination with the videos and lesson plans described above. This resource summarizes the engineering design process and contains in-depth discussion and examples related to individual steps. Individual sections of the project guide can be assigned using the Google Classroom button. An assessment tool is also provided for Google Classroom educators.
The project guide also contains a side-by-side comparison of the scientific method and engineering design process.
What about the Scientific Method?
Like the engineering design process, the scientific method offers a framework that can help guide the design and execution of a science project or science experiment. These methods are similar in some ways, but they differ in significant ways as well.
The scientific method offers a set of steps that help students understand the process of asking a question, doing research, forming a hypothesis, and then putting the hypothesis to the test with an experiment. In learning about the scientific method, students learn about independent, dependent, and controlled variables; the importance of doing multiple trials; what to do when an experiment doesn't go as planned; and how to analyze data and evaluate whether or not the hypothesis was supported.
This video helps explain the differences between the methods:
See also: Comparing the Engineering Design Process and the Scientific Method.
For resources to teach the scientific method, see Four Ways to Teach the Scientific Method.
Bookmark this resource!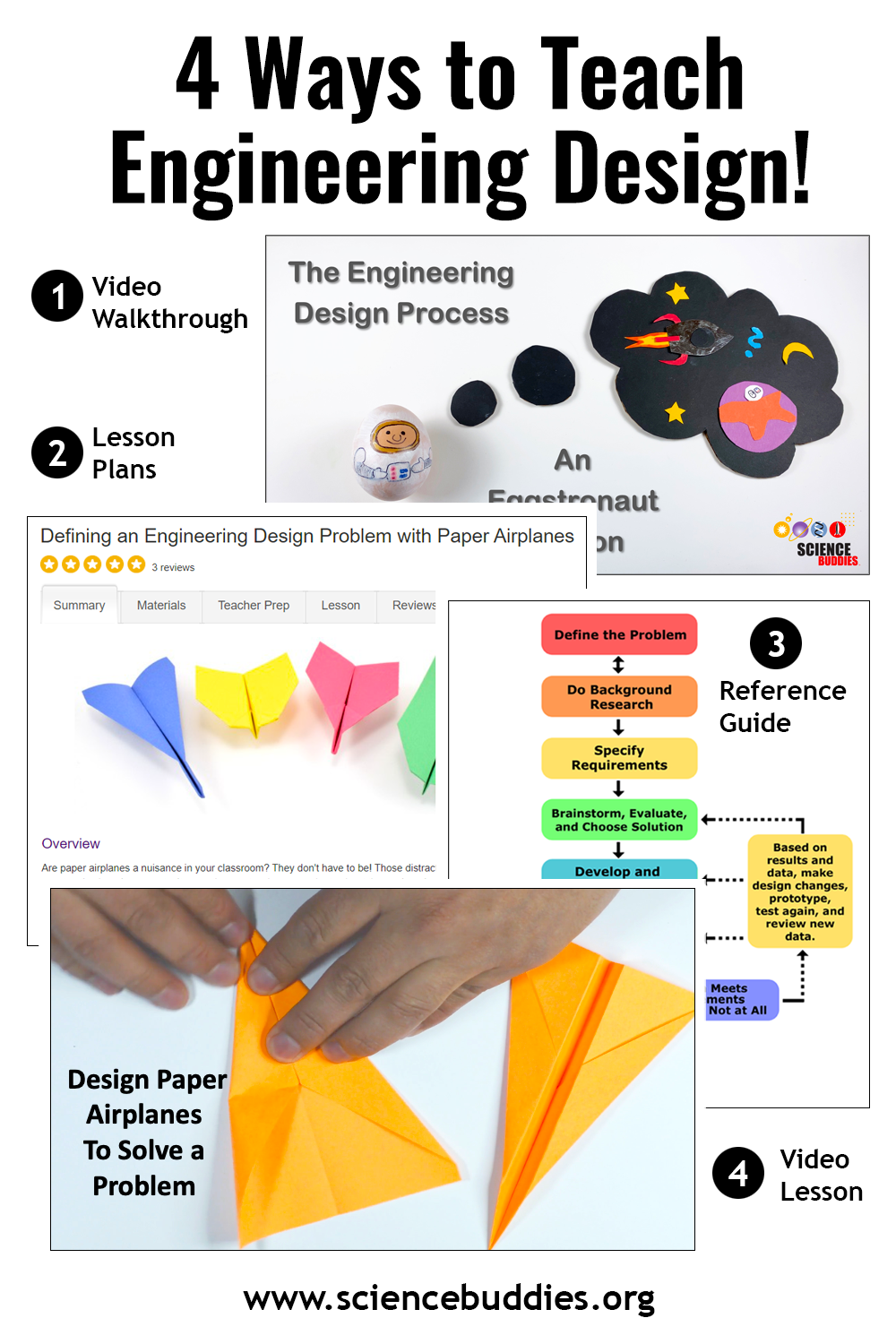 Categories:
You Might Also Enjoy These Related Posts:
Explore Our Science Videos
Video: Paper Airplane Launcher
Solve A Mirror Maze Reflection Challenge!