12 STEM Experiments for Lunar New Year
Celebrate Lunar New Year with these free science and engineering activities for enriching hands-on STEM.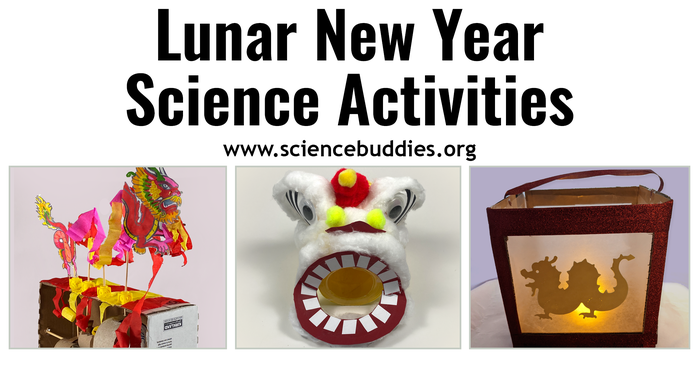 What is Lunar New Year?
Lunar New Year (also known as Chinese New Year) is January 22, 2023. Lunar New Year starts with the new moon that happens in late January or February. Celebrations continue for 15 days and culminate with a Lantern Festival. In Chinese culture, 2023 will mark the year of the rabbit. There are many symbols and traditions associated with Lunar New Year, including special foods, dragon and lion dances, fireworks, lanterns, red envelopes, and more.
As with any holiday or celebration that may be observed in the classroom, there are hands-on STEM activities you can adapt with Lunar New Year in mind. We've compiled a special list of 12 activities with suggestions for ways to turn ordinary science experiments into awesome Lunar New Year-themed STEM activities.
Light Up Lunar New Year Celebrations with DIY Paper Lanterns!
Lanterns are common symbols for Lunar New Year, and a Lantern Festival marks the end of the holiday. The new Make an Awesome Paper Lantern STEM activity and video from Science Buddies guides students in using the engineering design process to design and build paper lanterns.
STEM Activities to Observe Lunar New Year in Science Class
Pair Hands-on STEM with Children's Books
While tradition holds that books should not be bought or given for Lunar New Year, the following children's books may provide a nice storytelling tie-in on days leading up to or after the holiday.
Thematic Collections
Collections like this help educators find themed activities in a specific subject area or discover activities and lessons that meet a curriculum need. We hope these collections make it convenient for teachers to browse related lessons and activities. For other collections, see the Teaching Science Units and Thematic Collections lists. We encourage you to browse the complete STEM Activities for Kids and Lesson Plans areas, too. Filters are available to help you narrow your search.
Categories:
You Might Also Enjoy These Related Posts:
Explore Our Science Videos
How can air pressure prevent leaks?
Program Your Own COVID-19 Simulator with Scratch
Identify Road Signs with Google's Teachable Machine