Detective Science: Weekly Science Activity
In this week's spotlight:
a
physics
-focused science activity that helps families learn more about how forensic science can provide clues to solve crimes! Blood stains and spots at the scene of a crime can help detectives piece together what happened. In this activity, students use fake blood and investigate how blood stains change depending on the height from which the blood was dropped. It may sound gory, but there is interesting physics to explore!
You and your family can explore the science involved using one of these sets of directions for either an independent science project or a home or classroom science activity: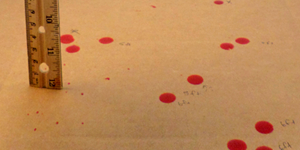 Categories:
You Might Also Enjoy These Related Posts:
Explore Our Science Videos
Balloon Car: 2015 Engineering Challenge
Squishy Circuits Classroom Activity Part 1
Two-Stage Balloon Rocket Lesson Plan