Red, White, and Blue with Soft Circuits
When you combine your circuitry know-how with fabric, you can, literally, wear your electronics on your sleeve.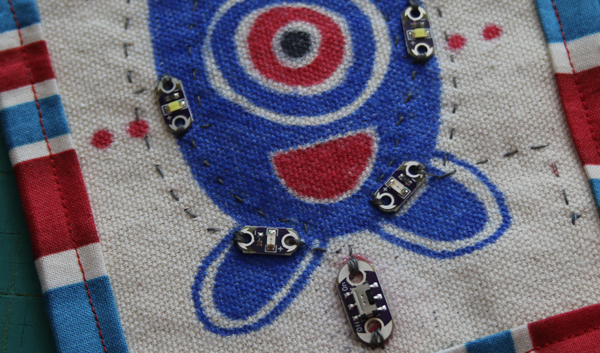 Above: this little monster is a fun and kid-friendly electronic textile patch that lights up red, white, and blue!
There will be plenty of loud, booming, and colorful nighttime celebrations for this week's 4th of July. Even before the sun goes down, the sounds of fireworks begin, sometimes starting days in advance of the official holiday. The Discover the Flaming Colors of Fireworks family science activity is a great way to get hands-on with a science investigation that helps kids hook science to the anticipated fireworks finale, but you don't have to set something on fire to create a portable burst of celebratory color and light!
While you wait for your local Independence Day fireworks display to start, you (and your kids) can create your own red, white, and blue light-up display, one you can wear, wave, or carry. With a needle, some conductive thread, and a few electronics parts, you can sew your own lighted soft circuit to show off your national pride.
Sewing Soft Circuits
The LED Dance Glove: Get the Party Started with Your Own Interactive Light Show project guides students in creating an introductory soft circuit. Also known as a wearable textile, electronic textile, or e-textile, this kind of fabric- and thread-based electronics project approaches wiring and circuitry from a new—softer—angle. Sew the components in place, being careful not to cross threads and keeping positive and negative traces separate, and you can add electronics to clothing or other fabric items.
The glove in the project can be used to create cool light effects in the dark. (See the project background information to learn more about competitions involving LED glove light shows!) Change things up a bit, and you can create your own gloves for the 4th of July using a combination of red, white, and blue LEDs or white gloves. Or, use the same general e-textiles approach and add an LED soft circuit to a backpack, a jacket, wrist band, or hat.
The dance glove project features a simple circuit with an on and off switch, a coin cell battery holder, and some Lilypad LEDs. The project requires no programming (the lights are either flipped on or off), so the project is a great first step in designing and sewing wearable electronics. Sew the elements of the circuit in place, flip the switch, and wear your science with pride!

For more inspiration about adapting the LED Dance Glove STEM project for patches, see the following posts:
Categories:
You Might Also Enjoy These Related Posts:
Explore Our Science Videos
Light-Tracking Robot: BlueBot Project #2