Family Dinner: Serving Up Science
Families who gather around the table to eat turn off the electronics, put down their books, pass the salt, salad, or main course, and tune in to one another. With busy schedules carving out the hours of the days for both students and parents, the minutes shared over a meal give everyone a moment to slow down, regroup, and refocus. Working a bit of science into your dinner table talk can be easy—and rewarding for everyone involved.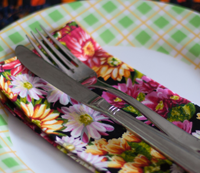 Compelling dinner discussion isn't always spontaneous! In her cookbook, The Family Dinner: Great Ways to Connect with Your Kids, One Meal at a Time
, and on her blog, Laurie David includes numerous suggestions for table talk, and the Huffington Post runs a weekly dinner topic column that highlights an engaging news story for family discussion. News and human interest stories can certainly springboard your family's dinner conversation, but with a bit of planning, you can spice up your mealtime talk even more by adding a dash of brain-boosting or awe-inspiring science. You might just increase your family's science, technology, engineering, and math literacy (STEM) one meal at a time.
When you think of "family dinner," you probably aren't alone if some larger-than-life image of a perfect, smiling family comes to mind. Many Generation X parents carry a mental image of family dinner that's a sitcom amalgamation of the Cleavers, the Bradys, and the Cosbys, all rolled into one. Depending on the state of your own dining table, that image might seem to be one of mythic and unattainable proportions, or maybe it's the kind of image that keeps you going as you strive to put in place healthy, happy, and meaningful routines for your family.

For years, the media has depicted family mealtime as a mark of a "happy" family, and nutritionist and child education experts alike have chimed in on the importance of the family meal. Proponents of eating together cite studies that show long-term benefits ranging from academic achievement to healthier eating and better social choices among teenagers. In an age where the family dinner could run the risk of seeming old-fashioned, the idea appears to be alive and well, a reality boosted by the fact that President Obama and his family, too, observe a family meal. Despite busy schedules and the ongoing proliferation of fast food places, many families do have a routine of shared meals, expect members of the family to be home and at the table for dinner most nights, and view dinner as a cornerstone of family interaction.

Steering Table Talk
What families discuss over dinner varies table to table. Some families share stories of school, the team, friends, extended family, or the day at the office. Some families talk about headline news. Some families share a "high" and a "low" for the day. Some dinner conversations are simply free-form or free-for-all. Part of what time together at the table offers is a window for family members to talk to each other. But what happens when conversation wanes? If you want your family dinners to succeed, being prepared with ideas for "table talk" can be as important as deciding what to serve.
Luckily, with a bit of forethought, it can be easy to uplevel dinner table talk into something meaningful beyond, "what's the green stuff in my pasta?" While your meals shouldn't turn into a classroom lecture, family dinner can provide a perfect opportunity to spend an extra five minutes talking about science with your kids. It doesn't take much preparation to bring a wholesome nugget of science or engineering to the table. Do it subtly, as moms do, and your kids might not even recognize that you're charted new territory at the dinner table, squeezing a bit of chemistry or engineering trivia in between the school gossip and the talk of weekend plans.

Pass the Science, Please
These tips can help you find easy ways to increase the neurons firing around the table. Go ahead and share "highs" and "lows." It's important to check in with your kids—and yourself. But with just a bit of a stretch, you can turn "pass the salt" into something that might generate an aha moment, might raise a question about how the world works, might inspire further research or experimentation, or might let your student show off something learned this year. You might even find that science talk leads to some very funny and exciting conversations!

Your Own Recipe
The above suggestions are just a few ideas to get you going. There are many, many more ways you can weave science talk into your meals. In a Washington Post article earlier this year, Casey Seidenberg suggests creating a "jar" of dinner table conversation starters. This would be a great way to stay ahead of your family meals and create your own custom blend of science topics gathered from some of the above sources. After a few science game nights, bring out the jar and pull out a science talk starter. Or make pulling a topic the way you kick off each meal.
Whether you are already a family that eats together or think it's worth a try, we know that with a bit of experimentation, you'll find your own perfect recipe for dinner table science success! We would enjoy hearing about your family discussions, what you try, what books and games you find that help keep your dinner talk educational, science-minded, and entertaining. Send your suggestions and stories to: amy@sciencebuddies.org.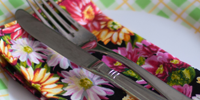 Categories:
You Might Also Enjoy These Related Posts:
Explore Our Science Videos
Separating Iron Filings from Sand
Squishy Circuits Introduction
Light-Tracking Robot: BlueBot Project #2