Get Your Spud On with Potato Science
Potatoes make a great side dish, but they also make great subjects for hands-on science! Food chemistry, plant biology, and even basic electronics are all on the menu when you experiment with potatoes.
By Kim Mullin
What is your favorite food on the Thanksgiving table? Turkey with cool cranberry sauce? Pumpkin pie with a dollop of whipped cream? For me, it is creamy, smooth mashed potatoes, piping hot and dripping with extra butter!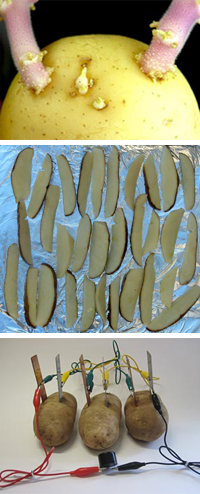 A South American Treasure
South American cultures had been eating potatoes for thousands of years before Spanish explorers brought them to Europe in the late 1500s. Despite their high nutritional value, it took about 200 years for potatoes to begin appearing regularly on European dinner tables. Until then, they were mostly used to feed animals. Now, however, potatoes are a staple in cultures all over the world, baked, boiled, steamed, mashed, and especially fried.
What Can You Learn from a Potato?
Some people say that fish is brain food. Try one of these Science Buddies Project Ideas, and you may decide that potatoes are brain food too!
Plan Ahead for the Holidays
Thanksgiving and winter breaks are right around the corner. Skip the screen time and try some hands-on scientific exploration instead!
Categories:
You Might Also Enjoy These Related Posts:
Explore Our Science Videos
Hydroponics in a 2-Liter Soda Bottle – STEM activity.
Build a Model Recycling Sorting Machine
Make a Self-Starting Siphon