Make a Glitter Surprise Package with a Simple Circuit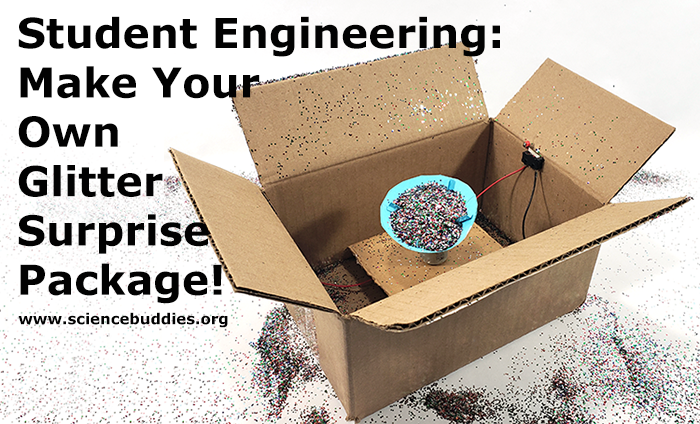 Student Engineering: Make Your Own Glitter Surprise Package! www.sciencebuddies.org
Turn a Video Phenomenon into a Student Science Project
You probably have seen or heard about Mark Rober's Package Thief vs. Glitter Bomb Trap video in the last few days. After spotting a package being swiped from his porch, the former NASA engineer rigged a fake package to let loose a bunch of glitter when opened. His high-tech gag package also included multiple phones for GPS-tracking and video footage, a fart spray mechanism, and other design features to make the package durable and recoverable. You can find similar glitter packages online designed to suprise recipients, but Rober's clever contraption is very well-planned and well-designed. That he was able to show footage of the package being "used" (and retrieved) multiple times adds a new angle to the glitter trap idea, and the video quickly went viral.
Students seeing the video may have wondered what it would take to make a similar package that would release a glitter surprise when opened. As an engineering project, students can experiment with designing and making a simplified version of a glitter surprise package using a simple circuit.
To make the glitter surprise package shown in the video created by Science Buddies staff scientist Ben Finio, simple electronic components are combined with a paper-based mechanism to hold the glitter and a small lever switch to activate the trap. Use the steps of the engineering design process to brainstorm, design, prototype, test, and modify your project. Step-by-step directions for building the device and a complete materials list are not provided, but you will need the following components to create something similar to the one shown:
Note: Science Buddies does not endorse this project being used as a weapon or tested with anything other than glitter. Students should take safety precautions when designing and testing their glitter surprise package. The glitter surprise should be used only with people who have given permission. Using it in any other way can be dangerous and could get students in trouble. Everyone involved should be prepared for lots of glitter cleanup in the process!
Share Your Glitter Surprise Package Project
If you or your students try your own version of this engineering design project, let us know! We would love to hear about your experience and share your story with the Science Buddies community. Reach out to us at scibuddy@sciencebuddies.org and let us know about your glitter surprise package project.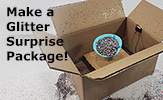 Categories:
You Might Also Enjoy These Related Posts:
Explore Our Science Videos
How can air pressure prevent leaks?
Build A River Model – STEM Activity
DIY Mini Drone Part 5: Analog Joystick Control