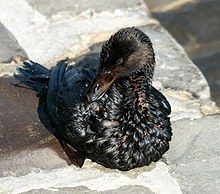 A massive oil spill off of the Gulf of Mexico has had environmentalists watching the winds in hopes that the oil wouldn't wash ashore. The weather, unfortunately, is failing to cooperate. Winds have sped the slick towards land, and predicted storms over the next several days will further hamper cleanup efforts. According to the New York Times, Louisiana has already declared a state of emergency.
The oil spill threatens the habitats and health of many coastal species, including birds and fish. This map details the area and highlights several species that are particularly at risk.
The following Science Buddies science project ideas can help students understand the damaging repercussions of an oil spill on local wildlife - and the logistical challenges of cleaning up:
Categories:
You Might Also Enjoy These Related Posts:
Explore Our Science Videos
Raspberry Pi Adaptive Game Controller
How Much Weight Can Boats Float?
DIY Mini Drone Part 1: Build Your Drone