Spilling Candy: Weekly Science Project Idea and Home Science Activity Spotlight
In this week's spotlight:
a pair of
physics science
projects that invite students and families to explore the
granularity
of materials. Can you
pour
candy in a way that is similar to pouring water? What determines whether or not a material can "flow" in this way? Which variables affect how smoothly the material flows? With your Halloween candy bag at hand, you can put it to the test with your own "candy waterfall" in these hands-on science project and family science activities.
For other Halloween-related science suggestions, see: Time for Spooky Halloween Science.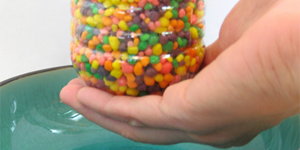 Categories:
You Might Also Enjoy These Related Posts:
Explore Our Science Videos
Build a Water Sprinkler Toy
Iteration in the Engineering Design Process