Paper Roller Coasters and Energy Transformation: STEM Teacher Success Story
This teacher used paper roller coasters to explore engineering design and energy transformation with high school physics students.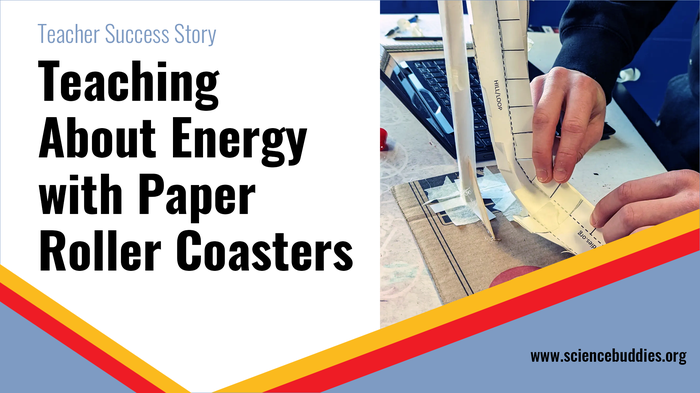 Inspiring Students About Physics and Engineering Design
As a special education teacher at Wheaton North High School in Wheaton, IL, Robert Griegoliet brings creativity and a zest for hands-on STEM instruction to the physics classroom. In addition to teaching, Robert is a curriculum coach at his school and a curriculum writer for the National Energy Education Development Project.
Teacher:
Robert Griegoliet, Special Education Teacher
School:
Wheaton North High School, Wheaton, IL
Summary:
Robert used paper roller coasters to explore energy transformation and engineering design with high school juniors.
Hands-on with Mechanical Energy in High School
As part of a 2-week unit on mechanical energy, Robert and co-teacher Chris Johnson built and explored paper roller coasters with students in junior physics classes. In preparing for the unit, Robert used the printable paper roller coaster template that is part of the Paper Roller Coasters: Kinetic and Potential Energy Science Buddies Lesson Plan and then extended the hands-on exploration to include both a modular construction and clear identification and observation of points of energy transformation. "I have a tendency to reinvent the wheel when I use someone else's materials," he admits.
Note: Both an NGSS-aligned lesson plan and an informal, family-friendly STEM activity are available to make and experiment with paper roller coasters.
Paper Roller Coasters for STEM Education
Paper roller coasters can be used across grade levels to explore potential and kinetic energy, the physics that come into play when incorporating loops, and how the variable of height relates to the design of a roller coaster.
Robert says he has used larger, non-paper roller coasters in the past, but paper roller coasters are more scalable for use with multiple classes and easier to take apart, which became an important part of his energy unit. In building their roller coasters, Robert's students first talked about roller coasters and then folded their worksheets to create their own.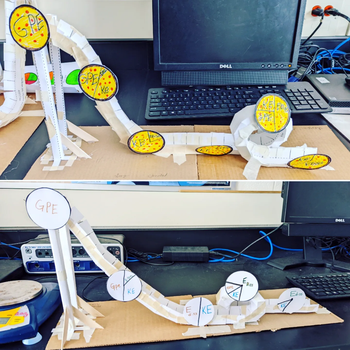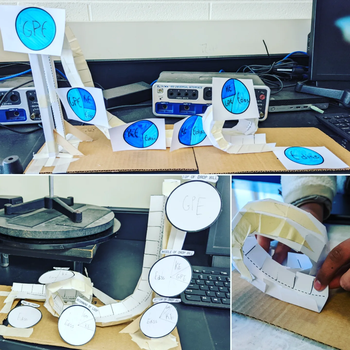 Excited by the way Robert used paper roller coasters with students, we caught up with him for an inside look at how it went.
What led you to use paper roller coasters with your students?
"The idea was to take our old boring worksheets, which commonly highlight transformations of energy on hills and loops, and fold the worksheet into a roller coaster. Coasters are an amazing and relatable application of transformation of mechanical energy. Each part of the coaster highlighted different learning targets, so we broke the coasters up part by part. As they learned about energy, students applied the Engineering Design Process (EDP) to develop their coasters."
The modular approach you took looks great, and we love how the sections can be slotted in and out, rearranged, and designs changed on the fly.
"Since we were working on the parts separately, more group members could work on the coaster at once. Since the coaster tracks are segmented, it will [also] allow us to take all class track parts and assemble them together at a later date."
As part of your unit, you had students visually pinpoint energy changes on the rollercoaster path. Can you talk a bit about that?
"As students designed their Drop Hill, we helped them plan and explain the transformation first. We used a toy car and bouncy ball lab to teach them about dissipated energy and then came back to plan and design our loops to accommodate lost energy. Each week, students had an analysis day. Week 1 was qualitative, and Week 2 was quantitative. We used pie charts to represent the transformation of energy qualitatively at defined points throughout the coaster. Students decorated and attached the pie charts to their coaster. My favorite had to be the group that decorated their pie charts as PIZZA pie charts."
And when you moved on to quantitative analysis?
"After we learned the gravitational potential energy (GPE) and kinetic energy (KE) formulas, we were able to collect data and calculate the amounts of energy at defined points in the coaster. Using heights and mass of the marble, students calculated GPE. We used PASCO's photogates to measure the speed of the marble as it left the Drop Hill and at the end of the coaster. The kids turned their speed into a bit of a competition, especially for the Drop Hill. Students were even able to calculate how efficiently their roller coaster transformed energy as a percentage."
How did you incorporate the engineering design process?
"The engineering process was perfect in this activity because we were constantly looping through the EDP. We kept learning new concepts and applying them to our design. We had multiple opportunities to test qualitatively and quantitatively that informed students how [they might] redesign and improve their designs. The physics-driven discussions and sighs of relief after their marble made it through spoke volumes about their engagement and mastery."
How did it go?
"It went so well! Students were engaged, had personal buy-in, and continually were returning to their coaster with a better understanding of the design. I am a firm believer in maker education. Especially in physics, there is no better way to engage kids into following the NGSS than the engineering design process."
Try It with Your Students!
To build paper roller coasters with your students or to find other STEM resources for teaching about energy, see the following:
To learn more about teaching the Engineering Design Process to students at all grade levels, see the following:
Thank you to Robert for sharing his story with Science Buddies. You can follow Robert on social media @whenthebleep.
"I am a firm believer in maker education. Especially in physics, there is no better way to engage kids into following the NGSS than the engineering design process."
Robert Griegoliet, Teacher
Categories:
You Might Also Enjoy These Related Posts:
Explore Our Science Videos
Delayed Release Pill Challenge
Two-Stage Balloon Rocket Lesson Plan
How Train Wheels Stay On Track - STEM activity