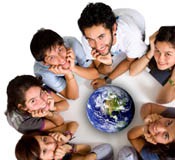 Roller coasters? Pinball machine design? Model planes? Stop motion animation? Renewable energy? "Myth-busting" (putting those science stories to the test)? Video game programming? Kite flying? Greenhouse gardening? Cooking? Photography? Medicine? Animal care? Biochemistry? Architecture? Earthquake detection? Wind power? Geo-sciences? Aqueduct and river ways engineering? Robotics? Invisible ink and spies-like-us skills?
When it comes to summer science, that's just the tip of the school's-out-let-the-hands-on-learning-begin iceberg!
Whatever field you can think of... whatever your areas of interest... there's probably a summer science camp or program that can let you really immerse yourself—and learn important science at the same time! You'll have fun with hands-on activities, exploration, and creative building or experimentation. But you'll also be learning, which is good for you and may be the icing on the cake when it comes to parents choosing enriching summer programs.

The Parent Perspective
When students come home from camp bubbling with facts about Newton's laws, gravity, kinetic and potential energy, lift and drag, torque, pulleys, and the pH scale... you know they're soaking up facts about the way the world works. But you also know they probably haven't been sitting at a desk, heads bent over a textbook. They're excited! They're brimming! And they might have tangible creations in tow that demonstrate what they've learned.
It's true. Summer camps provide a unique opportunity to teach a specialized curriculum in completely out-of-the-box ways. Summer science can and should be fun, and most summer programs work hard to create captivating and innovative science experiences that let students learn by doing. No testing required!
Programs vary, and themes often change week to week or year to year, so you'll want to spend some time exploring camps in your area. Our Summer Science Camp Resource is designed to help you learn more about what science programs offer—and to help you find great summer science opportunities where you live.
Take a look!
Categories:
You Might Also Enjoy These Related Posts:
Explore Our Science Videos
A Candle Seesaw – STEM activity
Shrink a Potato with Osmosis – STEM activity