Deep Dive into STEM—Do a Summer Science Project!
Summer is the perfect time to dive into a science project and build new STEM skills for fun! Choose a project of interest or explore a cutting edge area of science this summer. What will you discover?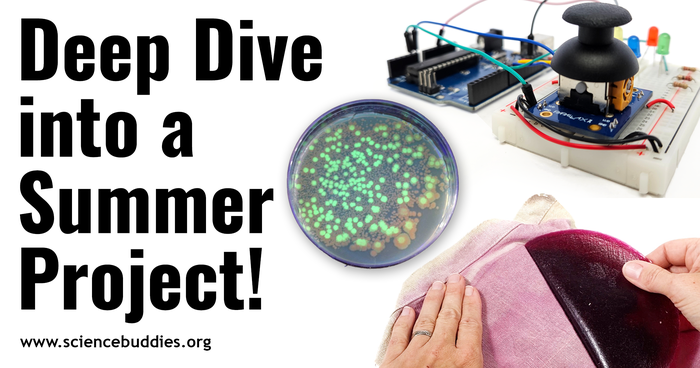 What will you explore this summer?
Summer is for adventure, fun, and creativity. That makes it the perfect time to dive into a science project! With school out, no homework, and a more flexible schedule, you can explore an area of science or engineering that interests you, try something new, or experiment with cutting edge areas of science for fun. Summer break is your chance to do a STEM deep dive!
Why do a summer science project?
With a summer science or engineering project, you can challenge yourself and build STEM skills that you might not get in your regular classes. You might find it exciting to work on a long, multi-week project, or you might do a series of shorter experiments to learn new skills or sample different areas of science. A summer project might turn into one you carry into the next school year for a science fair or include on your college applications!
What is most important though is to have fun! Ready to get started?
Step 1—Pick a Summer Science Project
The first step is finding a project. Picking something that really intrigues or interests you is key. With no grades, assignments, or rubrics dictating what you should do, you have more freedom to choose any area of science that sounds fun or that you have "wondered" about. You aren't limited to topics covered in your school courses or by which AP classes are available. A summer project is a fantastic way to experiment in an area that your school doesn't offer!
If you already have an idea, you can jump down to Step 2 and get started planning your project. If you don't have an idea:
Use the Topic Selection Wizard to get recommendations for projects that match your interests.
When looking at the recommendations from the Wizard, do certain areas of science show up repeatedly in your results? Browse those areas to see if a specific project sparks your curiosity. Do you want to find out what happens or how it works?
Think about these cutting edge and emerging areas of science. Do any of these sound interesting to you?
For even more ideas, browse the list of 30+ project areas (click "Science Projects / By Area of Science" in the gold bar or use the filters when viewing projects). What catches your eye?
Step 2—Start Experimenting!
After selecting a project, dive in!
Plan your science project or engineering project.
Start experimenting (science project) or designing and building (engineering project).
Document your project as you go along. Keeping a lab notebook or an engineering design notebook and recording the steps you take, outcomes, changes, observations, and iterations creates a record of your work. This is an important part of the process and will also be helpful if you have the opportunity to share or showcase your project later. Don't forget to date your entries!
If you have questions or run into problems while working on your project, use the Ask an Expert forums. If you are working on an advanced project, you may also be interested in finding a local mentor.
Step 3—Maximize Your Project
When summer is over, you may want to continue your project in the coming school year or enter it in a local science fair or competition. You can learn more about some well-known science and engineering competitions in the Science Fair Directory. To find other competitions in your area, talk to your teachers or search online.
To learn more about how to present your project at a science fair or STEM competition, see these resources:
Be sure to include your summer project when you are writing your personal statement or filling out college applications! Talking about your summer science or engineering experience can also be helpful when applying for scholarships and internships.
Have fun!
When school starts in the fall, and you are asked to talk about what you did over summer break, you're going to have an awesome STEM story to tell. Tag us in social media or drop us an email to let us know how your summer project went and what you explored and discovered!
Categories:
You Might Also Enjoy These Related Posts:
Explore Our Science Videos
Popsicle Stick Chain Reaction -STEM activity