The "Bloom" of Successful Inquiry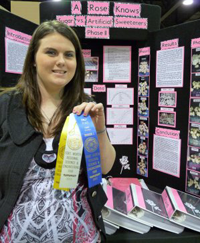 Mikaela May, student at Crowley High School, Crowley Texas, with her award winning project.

Mikaela May's world is one of full of flowers... real flowers at the floral shop where she works. As an agriscience student and dedicated
Future Farmers of America
(FFA) member, Mikaela, now a high school senior, turned a common customer question into a successful multi-year science investigation—and came up smelling like roses.

Asking Questions
People who buy roses often want to know what steps they can take to make them last longer. Many florists provide a packet that can be added to the water in a vase to help flowers stay fresh. Do those packets really work? What about baby aspirin? What about copper pennies? (Or are those for snails?)
There are many "common wisdom" strategies out there that promise to be "the" key to helping your blooms last longer than if you just brought them home, put them in a vase of water, and left them alone. What Mikaela wanted to know was whether or not commercially available "preservation" packets work—and, if so, why.

"Sweet" Flowers?
Mikaela's initial study focused specifically on the use of sugars in preservation solutions. As she worked on designing the various phases of her inquiry and then performing her trials, Mikaela used the Science Buddies Project Guide to help keep her on track. She won numerous awards and honors for Phase I and Phase II of her project, and she isn't finished yet. Phase III of her study is underway!
To find out more about Mikaela's project and her "blooming" success at a number of fairs, check out her Science Buddies in Action success story.
Categories:
You Might Also Enjoy These Related Posts:
Explore Our Science Videos
Build a K'Nex® Differential
How to Make a Simple Refracting Telescope (Monocular)