The Nighttime Sky Offers a Rare Treat This Week
By Kim Mullin
Sky gazers will find the night skies especially rewarding in coming days.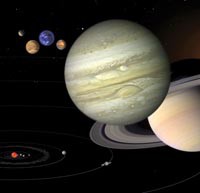 Five planets can be viewed at various times without a telescope, but catching them all in the same night is rare! If you're interested in a closer look at Mercury, NASA is holding an online chat on Monday, March 5.
The night sky is offering up a rare show this week: five planets so bright that you can see them with the naked eye! Also for your viewing pleasure, Earth's moon will stay high in the sky several hours before setting, and two of the brightest stars, Sirius and Canopus, will each be at their highest point in the sky during 2012. With a lineup like that, it is a great time to head outdoors and try your hand at astronomy. February 28 through March 7 will offer the best views.

Five Bright Planets Make Their Appearance
It has been eight years since Mercury, Venus, Mars, Jupiter, and Saturn have all been visible on the same night, although they won't all appear in the same place or at the same time. Mars, Mercury, Jupiter, and Venus all appear shortly (between a half hour and an hour) after sunset, but Saturn keeps late hours, not appearing until midnight. For diagrams and more directions to help you spot these planets, see National Geographic's "See 5 Bright Planets in Night Sky--First Time in 8 Years."

Sirius, Canopus, and the Moon Hang High in the Sky
While you are outside, also look for Sirius and Canopus. They are visible from Earth every night, and Sirius is the brightest star in the sky. Canopus is the next most bright, although to see Canopus you must be at a latitude south of Los Angeles. Both stars will appear higher in the sky this week than at any other time this year. To find them, you may need a guide to the stars, an app like the popular Star Walk, or help from someone with a little experience stargazing.
If you have a set of binoculars, you may also want to take some time to study the moon's surface a little closer. During this period, the moon will be in its waxing gibbous phase. "Gibbous" means that the part we can see is larger than the part we can't see. The moon will also stay high in the sky for several hours before setting.

Discover More at Science Buddies
Our universe is amazing! Explore it with these introductory Science Buddies project ideas:
The Moon and the Stars: discover whether or not the phase of the moon affects the number of stars that are visible in the sky.
Measuring the Moon: measure how the brightness of the moon changes during different lunar phases.
A Puzzling Parallax: explore how "far" away objects in the night sky are by learning more about a visual phenomenon called "parallax."
Categories:
You Might Also Enjoy These Related Posts:
Explore Our Science Videos
Make a Lung Model – STEM activity
Finding Pi Using Everyday Objects