The Science Behind Sun Protection
If you knew more about sunscreen and UV rays, would you change your sun protection habits?
By Kim Mullin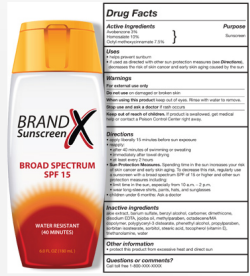 Understanding Differences in Sunscreens
With hands-on science projects, students can investigate differences in sunscreens and how different ingredients and different levels of SPF work to protect the skin and block UV rays. See the Food and Drug Administration (FDA) for additional information on labeling requirements in the U.S. (Image: FDA)
"Don't forget the sunscreen!"
How often do you hear that over the summer? It's an important reminder because UV rays from the sun can damage our skin, causing uncomfortable burns, or, over time, skin cancer. Although sunscreen is a good idea any time of the year, we tend to think about it more in the warmer months when we are likely to be spending more time outdoors or in the water.
Next time you slather on a protective coat of sunscreen, take a look at the bottle. Does it say that it protects against both UVA and UVB rays? (UVB radiation causes skin to burn, but both UVA and UVB can contribute to skin cancer.) And what kind of ingredients does it have? If the main ingredients are zinc oxide or titanium dioxide, it is physically protecting your skin, which means that most UV rays (both UVA and UVB) are reflected away from your skin. Other active ingredients absorb UV rays, chemically converting them to heat before they damage your skin.

How Well Are You Protected?
Thanks to improved labeling, you can choose sunscreen based on Sun Protection Factor (SPF) and the spectrum of UV it protects against. A sunscreen labeled as "broad spectrum" protects against both UVA and UVB rays. Reading labels and really understanding how sunscreen works are two different things though. What is the difference between SPF 15 and SPF 50?
With the Testing Sunscreen Effectiveness and Water Solubility Project Idea, you use a UV monitor to put your sunscreen to the test. How much UV do different sunscreens block and how does this relate to the SPF rating? Do all active ingredients offer the same protection?

When is the Best Time to be Outdoors?
We can protect our skin with sunscreen or by covering up with clothes, but we can also reduce our chances for skin damage by being outside at the right time. Why does the time of day matter? Because the level of UV light changes throughout the day.
A noon picnic and playtime at the beach sounds fun, but would breakfast bagels be better? Or late afternoon snacks? Students can experiment to find out in the Don't Get Burned—Measure the UV Index at Different Times of the Day science Project Idea. Using a UV monitor to take readings of UV levels throughout the day, students can chart how the amount of UV light varies at different points in the day. What about cloudy versus sunny days? Are you safer when the skies are gray?

Safe Fun in the Sun
Our sun offers us many benefits—we literally couldn't live without it! However, our sensitive skin requires us to take commonsense precautions when we are outside. Learning more about sunscreen and UV rays will help you make better decisions about staying safe in the sun.



Categories:
You Might Also Enjoy These Related Posts:
Explore Our Science Videos
Extract Iron from Cereal– Science Project
Make a Whirlybird from Paper