This Experiment is Totally Sweet
November is a great time to experiment with a kitchen science project. A cheesecake smackdown explores how subtle variations in cooking methods can create very different results!
By Kim Mullin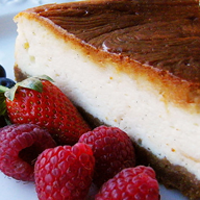 Make Cheesecake a Scienctific Part of Your Next Family Gathering!
Volunteer to make dessert for your next family event, and you can combine making a tasty contribution for after dinner with a kitchen science exploration! (Image: Wikipedia)
When is a cake
not
a cake? When it is a cheesecake! Creamy, sweet, and delicious, cheesecake is definitely a dessert, but it is a rich and dense custard instead of a spongy and light birthday-style cake. Mmm...cheeeeeesecaaaake....
Variations on the Cheesecake Theme
Traditional cheesecake recipes only call for eggs, sugar, vanilla, and a milk product such as sour cream, heavy cream, or cream cheese. This kind of basic recipe lends itself to creativity, so nowadays, you can find cheesecakes in all sorts of mouth-watering flavors: chocolate chip cookie dough, pumpkin pecan, and lemon raspberry, to name just a few. Yum! Search for cheesecake recipes online, and you'll find that anything goes.
When you head to the kitchen to make your own cheesecake for a family gathering or a weekend treat, all you need to do is mix up all of this sweet and creamy deliciousness and throw it in the oven for an hour, right? Not so fast!

Recipe Variations Equal Varied Results
When it comes to baking, there is a science to getting the results that you want. Professional bakers pay careful attention to measuring ingredients, controlling temperatures, and mixing at the right speeds. They know that the wrong variations can mean the difference between a baked good that's perfectly light and delicious, and one that's overly tough and chewy.
Cheesecake bakers want a nicely risen filling and a smooth, crack-free top, but there are three different recommended baking methods. Which one is best? The way to find out is to put it to the test!
The "Choice Cheesecakes: Which Baking Method is Best?" food science Project Idea lets you be the head chef in a delicious experiment! Always using the same cheesecake recipe of ingredients, you'll test all three of the recommended baking methods and then count cracks and measure the rise to see which approach gives you the best results. When looking at your data, think about why the different baking methods change the outcomes. Which method would you recommend?

Sweet Success
This is one science experiment that you are definitely allowed to eat, so when all of the baking is done, it's time to dig in! You'll end up with lots of cheesecake, so invite friends and family to enjoy the results of your cheesecake smackdown. You might even take an un-scientific poll to see which method makes the best-tasting cheesecake. You'll have everyone saying that science is sweet!

Categories:
You Might Also Enjoy These Related Posts:
Explore Our Science Videos
Paper Ball Run: 2022 Engineering Challenge
Paper Bridges STEM Activity
The First Cartoon: Make Your Own Thaumatrope!