A Closer Look at Saturn's Rings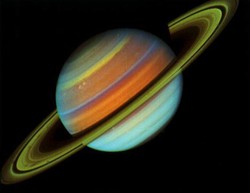 The May 11 successful launch of the space shuttle Atlantis marks NASA's fifth repair trip to the Hubble Space Telescope. This trip is listed as Atlantis's final servicing trip for Hubble, and slated repairs and upgrades include installation of the Cosmic Origins Spectrograph, which will enable observation of "light put out by extremely faint, far-away quasars and see how that light changes as it passes through the intervening gas between distant galaxies."
The Hubble's wide-field camera will also be replaced as part of this mission.
According to NASA, "the new Wide Field Camera 3 will allow Hubble to take large-scale, extremely clear and detailed pictures over a very wide range of colors. At ultraviolet and infrared wavelengths the WFC3 represents a dramatic improvement in capability over all previous Hubble cameras."
High-powered telescopes and cameras like the ones that are part of the Hubble Space Telescope have enabled images that allow more fine-tuned observation of things like the composition of the rings of Saturn.
The "What Makes the Rings of Saturn?" Science Buddies science fair project idea is geared toward K-1 students and classrooms and shows photos both from the Hubble and from Voyager 2. In what becomes a hands-on project that merges art and science, young scientists get to simulate the composition of Saturn's rings and evaluate the ways in which composition affects appearance.
Categories:
You Might Also Enjoy These Related Posts:
Explore Our Science Videos
How can air pressure prevent leaks?
Build A River Model – STEM Activity
DIY Mini Drone Part 5: Analog Joystick Control