Box office sales over the weekend will tell the story, but the hype around Disney/Pixar's newest release, UP (opens May 29), has been "floating around" for months. For movie-goers of all ages, there's a certain level of enchantment to the idea of a man who ties enough balloons to his house to turn it into a giant balloon and sets off on a Helium-powered adventure. That's exactly what the 78-year-old retired balloon salesman at the heart of UPdoes. With thousands of balloons attached to his house, he heads for South America only to find his 8-year-old nemesis stowed away on board.
To take a look at what's going on behind the idea of a house being used at a balloon-powered aircraft on the big screen, check out these Science Buddies science fair project ideas:
How Does a Hovercraft Work? (Science Buddies' difficulty rating: 1)
In this experiment you will test if different volumes of air will cause a balloon powered hovercraft to travel for longer periods of time.
An Uplifting Project--The Buoyancy of Balloons (Science Buddies' difficulty rating: 6-7)
The objective of this physics science fair project is to measure how the buoyancy of helium-filled latex balloons changes over time.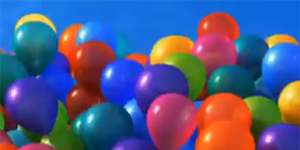 Categories:
You Might Also Enjoy These Related Posts:
Explore Our Science Videos
Potato Battery Science Project
How to Make Great Rock Candy – STEM activity