Watch Science Mom on Mom's Homeroom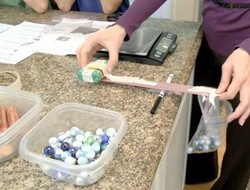 Courtney Corda, AKA "Science Mom," appeared in a video segment (Episode 6) of Mom's Homeroom this week with a roundup of great tips for parents whose students are doing science projects or preparing for the school science fair.
Walking a group of students through the Give It a Lift with a Lever physics project, Courtney explains that there are six kinds of "simple machines," the lever being one of them. The project, geared for grades 3-6, guides students through the building of a tabletop lever constructed from familiar household objects: a ruler, a ballpoint pen, and a bar of soap.
With the device hooked to the edge of a counter, Courtney explains concepts like "load end," "effort end," and "fulcrum" as the students test the lever by "lifting" objects like pennies or marbles. With the "simple machine" in place, students can explore what happens when changes are made to the design. What happens to the amount of effort required to "lift" something when the length of the effort arm is changed?

Empowering Your Students
For parents, Courtney offers the following advice:



Let students choose their own topics. Our Topic Selection Wizard can help students locate exciting projects that they might enjoy doing. Forcing a topic can be a big mistake!
Let them do the work. Rather than making suggestions that tell them "what" to do next, ask open-ended questions that encourage your students to problem solve and to apply what they're learning and observing to the task at hand.
Help them stay on track. Science projects often involve many steps, and the classroom assignment may have multiple components, including background research, a report, the experiment itself, a conclusion, and the sharing of results and data. Parents can help students by setting up milestones that will keep them focused and help them sequentially work through all steps of the science project experience.


Keeping Perspective
In the end, reminds Courtney, a science experience should be fun, positive, educational, and empowering. It doesn't matter if the original hypothesis is proven true or not. What matters is the time spent actively exploring the science at hand—and the ability to communicate what was learned from the experiment or project.

A Site for Moms
In its 3rd year of production, Mom's Homeroom, sponsored by MSN and Frosted Mini-Wheats®, is a comprehensive online destination for moms looking for information to help them support their children's academic success and achievement. Led by a diverse group of moms—Victoria, Michelle, Jillian, and Alba—the Mom's Homeroom site contains video "episodes," articles and usable resources (like quizzes and printables), and blogs all designed to make it easier for moms to connect with "actionable, thought-provoking and entertaining insights on a broad range of top-of-mind educational topics."
To learn more about Courtney and to watch other video segments from our Science Mom, visit the Science Mom section of the Science Buddies website.
Categories:
You Might Also Enjoy These Related Posts:
Explore Our Science Videos
DIY Mini Drone Part 2: Altitude Control Circuit
Self-Driving Cars Science Project: Automatic Braking