Whip Up Some Science in the Kitchen
Kids running rampant through the house on cold, dark winter days? Corral them in the kitchen! With a few basic ingredients, you can conjure up "whipping cream" food-science fun for both tots and teens.
By Kim Mullin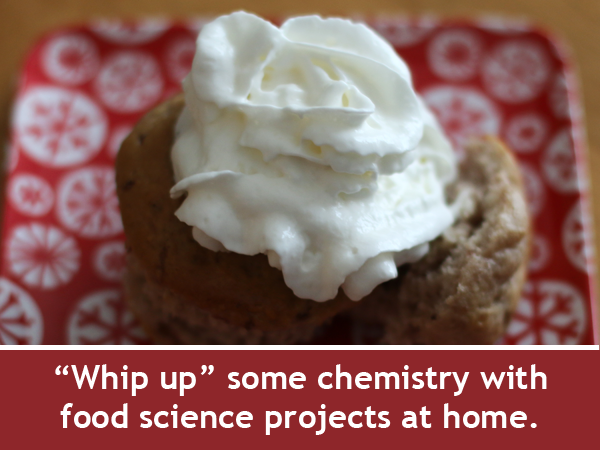 When it comes to food science, heavy whipping cream is an easy place to start. We buy it in liquid form but can easily change into a something different: whipped cream to top pies and sundaes, butter to slather on potatoes and bread, and even ice cream! How do these seemingly magical changes take place?

Just Add Air
To turn liquid heavy whipping cream into fluffy white peaks, air is the secret ingredient. Whether you whip cream by hand with a whisk (a good energy burner!), or use an electric mixer, you are adding air to the cream and creating a mass of tiny bubbles. The cream's protein molecules form the bubble walls, and the fat molecules add strength to the walls. Can you guess why you can whip a bowl of cream, but not a bowl of milk?
If you have a sink full of soap bubbles, they eventually pop, and the same thing will happen with whipped cream, particularly if it gets warm. To avoid serving pastries topped with an unappetizing clumpy puddle, cooks often use unflavored gelatin to stabilize whipped cream. In other words, they are using the gelatin to strengthen the bubble walls. How much gelatin creates the ideal stabilized whipped cream? You probably don't want to end up with a wobbly, bouncy white cloud! Let the Fresh Whipped Cream That Lasts science project inspire some whipped cream experimentation.

Butter is Better
What happens when you continue agitating cream past the fluffy stage? Butter happens! Give kids a small, tight-lidded container of heavy whipping cream, and have them shake it until they make butter. (Another great energy burner!) Ask them to guess how long it will take and whether or not the temperature of the cream matters. The table in the Shaking for Butter science project will help you keep track of your results.


We All Scream for Ice Cream
Most kids won't be able to resist creating their own single servings of ice cream. Follow the directions in the Make Ice Cream in a Bag family science activity, and you have another active, hands-on, tasty science project. As they shake up their treats, help kids think about why they aren't just getting butter as a result of shaking their bags.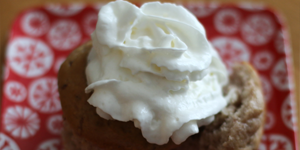 Categories:
You Might Also Enjoy These Related Posts:
Explore Our Science Videos
Build a Simple Steerable Robot