Women in Engineering: Mary Barra Takes Keys to Car Manufacturing Company
The story of the next General Motors CEO may help change ideas about car engineering and gender and inspire future generations of female engineers.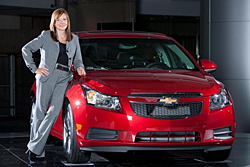 Photo: John F. Martin for General Motors
What happens when a girl grows up loving to build, design, engineer, tinker, solve, create, and improve upon what's "out there"? What happens when a girl who loves those things gets encouragement, opportunity, and education that supports her interests? She might just take over as chief executive officer of a major company, just like Mary Barra is preparing to do at General Motors (GM) where she will lead the company and its more than 200,000 employees worldwide.
A recent writeup in the Buffalo News notes that Barra, who grew up in a Detroit suburb, "remembers pining as a 10-year-old for her cousin's red Camaro convertible and tinkering in the garage with her father, a die maker who spent four decades at GM."
Following in her father's footsteps, Barra started at GM while in college and has been there for thirty-three years. You (and your students) can read more about Barra, her history as an engineer, and the recent announcement that former CEO Dan Akerson is handing over the reins to GM in stories at Forbes, the New York Times, the Washington Post, and in this Stanford Alumni profile (Barra attended Stanford Graduate School of Business).

Engineering Keys to the Castle
Barra's interest in cars started with her early love of a shiny red Camaro, and when you read through the many news stories about Barra's recent appointment as CEO (see links above to get started), you will see recounted the dilemma she faced when buying her first car in the 70s—and what she chose instead of the Pontiac Firebird she wanted. Barra's love of cars was not only about exteriors, however. She was also interested in the nitty-gritty of engineering, and Barra has talked about the importance of her mother's support of her interest in science and math—even though these were not areas of expertise for her mother.

Support for Girls in Engineering
At Science Buddies, we encourage you to nurture your student's interest in engineering at every age and stage, and we frequently post information designed to help parents and teachers find and facilitate exciting and inspiring science, technology, engineering, and math moments for their students.
For female students, this can be especially important as early interests may sometimes falter in the face of stereotypes about gender and science and engineering careers. See "Exciting Girls about Science and Engineering" and "Encouraging and Inspiring Female Student Engineers" for more information and links to related Science Buddies content.

Making Connections
If Barra's story inspires your family's dinner or New Year's discussions, or if you have a student who really grooves on cars, auto racing, the way gears go together in a toy kit, or how future design and innovation will need to be more and more fuel-aware and fuel-efficient, consider the following Project Ideas:

Careers in Engineering
For more information about careers related to engineering and automobile design and
manufacturing, see the following science career profiles:
Categories:
You Might Also Enjoy These Related Posts:
Explore Our Science Videos
Build a Simple Electric Motor
Sweet Earthquake Shake- STEM activity