Abstract
You have probably heard about using
renewable
energy sources like wind and solar power to provide electricity to homes and buildings, as well as hybrid or fully electric cars that use less (or zero) gasoline. But what about solar-powered robots? As robots become more common, it is increasingly important to use "green" energy sources to power them. In this project, you will build and test a popular robot called a bristlebot — a tiny robot made using toothbrushes—that can operate on either battery or solar power, and investigate how well it performs in different weather conditions.
Objective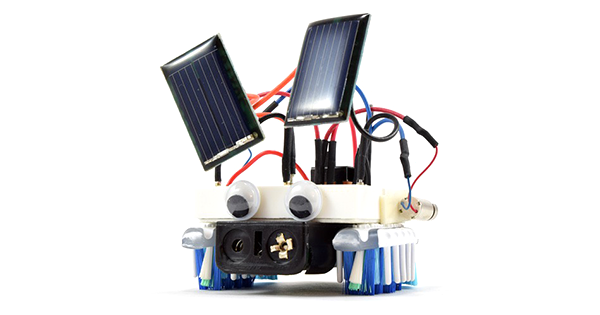 Compare the performance of solar and battery power for a bristlebot in different weather conditions.
Introduction
Many of the devices you use every day require electricity to operate. Electricity can be supplied directly to devices that plug into wall outlets (like lamps and computers), and it can also be stored in batteries for cordless devices like television remote controls, cell phones, and even robots like the one you will build in this project! Modern life as you know it would not exist without electricity, but electricity comes at a cost. The electricity we use has to be created somehow, and creating electricity requires a source of energy.
One very common source of energy for creating electricity is burning fossil fuels, like oil and coal. Fossil fuels are being used up (mined or pumped out of the earth) faster than they are naturally replaced, so eventually we might run out of them. Burning them also creates greenhouse gases that contribute to climate change, and other pollutants that can harm the environment. Renewable energy sources are an alternative to fossil fuels. They get energy from sources that will not deplete, like the sun, the wind, or Earth's super-heated core. They also tend to be much cleaner and cause less pollution than fossil fuels.
Solar panels harness a big source of renewable energy: the Sun! They can create electricity from the Sun's rays, without creating any harmful emissions like fossil fuels do. You may have seen large solar panels on the roof of a house, but tiny solar panels are also used to power smaller devices like USB cell phone chargers or even miniature robots. In this project, you will build a miniature solar-powered robot, like the one shown in Figure 1. The robot is a type of bristlebot, a popular robot that gets its name from the fact that it uses toothbrushes as "feet."
Despite the clean, renewable nature of solar power, it does have some drawbacks. The power output of solar panels can drop dramatically when it is cloudy, and they do not work at night when it is dark out. One of the biggest challenges to wide-scale use of solar power is figuring out how to effectively store energy gathered during the day for use at night, or during bad weather when the solar panels cannot create electricity.
With that in mind, the robot you build in this project will have two different sources of power: solar panels and stored energy in the form of batteries. You will build an electrical circuit—or a loop through which electricity can flow—that lets you toggle between powering the robot from its batteries or its solar panels (the solar panels do not recharge the batteries; you can just pick between the two). The circuit will provide power to two motors that make the robot move. You will investigate how the two different power supplies affect the robot's speed in different weather conditions. As you test your robot and analyze the results, consider some of the challenges that need to be overcome as fossil fuels are replaced with renewable energy.
Terms and Concepts
Electricity
Battery
Energy
Fossil fuels
Greenhouse gases
Climate change
Renewable energy
Solar panel
Bristlebot
Circuit
Motor
Breadboard
Questions
Why is renewable energy important?
What are some sources of renewable energy?
What are some of the limitations of solar power?
Do you think your robot will be faster using battery power or solar power?
Do you think the weather will have any effects on the robot when it is running on battery power? What about the solar panels?
Materials and Equipment
Advanced Bristlebots Robotics Kit, available from our partner Home Science Tools. You will need the following materials from the kit:

Mini breadboard
2xAAA battery holder
AAA batteries (2)
Mini vibration motors (2)
Toggle switch
Mini solar cells (2)
1 inch red jumper wire
1 inch black jumper wire
Note: This kit also contains materials for the Build a Light-Tracking Bristlebot project, a robot which will automatically drive toward a light source.

You will also need the following materials, not included in the kit:

Identical toothbrushes (2); be sure the longest bristles on the brush are all slanted in the same direction. See Figure 3 in the Procedure for details.
Scissors or wire cutters
Double-sided foam tape
Optional: Craft materials to decorate your robot (such as googly eyes, colorful pipe cleaners, etc.)
Outdoor area with direct sunlight. This project will not work with artificial light.
A smooth surface you can take outdoors, or outdoor furniture, on which to test the robot; for example, a smooth piece of wood, plastic, or glass, or a large textbook. The robot will not travel very well on rough surfaces (like sidewalks or dirt) because the toothbrush bristles might get stuck.
Objects to create walls to make the robot go straight; for example, two rulers or two textbooks you can place side by side.
Stopwatch
Lab notebook
Experimental Procedure
Variations
Frequently Asked Questions (FAQ)
If you are having trouble with this project, please read the FAQ below. You may find the answer to your question.
Careers
If you like this project, you might enjoy exploring these related careers:
Contact Us
If you have purchased a kit for this project from Science Buddies, we are pleased to answer any question not addressed by the FAQ above.
In your email, please follow these instructions:
What is your Science Buddies kit order number?
Please describe how you need help as thoroughly as possible:

Examples

Good Question I'm trying to do Experimental Procedure step #5, "Scrape the insulation from the wire. . ." How do I know when I've scraped enough?
Good Question I'm at Experimental Procedure step #7, "Move the magnet back and forth . . ." and the LED is not lighting up.
Bad Question I don't understand the instructions. Help!
Good Question I am purchasing my materials. Can I substitute a 1N34 diode for the 1N25 diode called for in the material list?
Bad Question Can I use a different part?
Contact Us
Related Links
Cite This Page
General citation information is provided here. Be sure to check the formatting, including capitalization, for the method you are using and update your citation, as needed.
MLA Style
APA Style
Last edit date: 2023-04-09