Abstract
Sometimes engineers get ideas to build robots from animals in nature. There are robot dogs, robot snakes, robot birds, robot cheetahs, and even tiny robotic insects! In this science project, you will build a robot insect of your own. The robot will automatically drive toward a light source, mimicking a behavior called
phototaxis
, seen in some insects. You will build your own robot and then make adjustments so it can reliably drive toward a light.
Objective
Build a light-following bristlebot and make adjustments so it can accurately follow a light source.
Introduction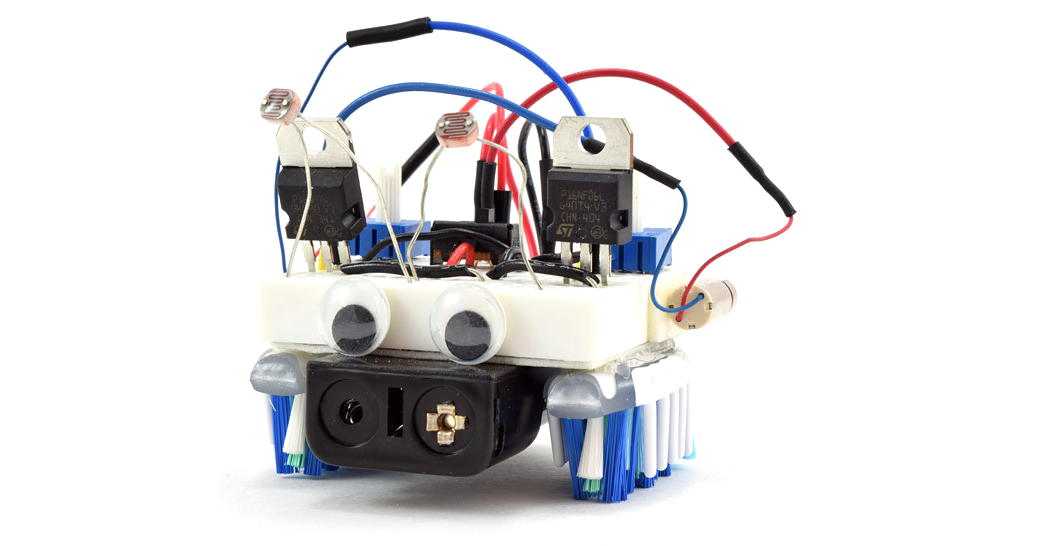 Have you ever seen swarms of insects fluttering around a streetlight at night? What about little bugs that quickly seek out a new hiding spot when you look under a rock? This type of behavior is called phototaxis, which means movement in response to light (animals that move toward light have positive phototaxis, and those that move away from light have negative phototaxis). Although it might not always seem like a smart move to make—such as when a mosquito flies into a glowing, electric bug zapper—moving toward or away from light can be a simple way for an insect to successfully decide where to go most of the time.
Now, you might be thinking, "I thought this was a robotics project, so what do insect behaviors have to do with robots?" It turns out that sometimes, engineers like to design robots based on things they see in nature. For example, there are robots that use legs to run like animals and robots that fly by flapping their wings like a bird. Robots that are modeled after animals are called biologically inspired robots (or "bio-inspired" for short). In this project, you will build your own miniature, bio-inspired robot, like the one in Figure 1: a robot "bug" that will automatically drive toward a light source, just like some real bugs do! The robot is a type of bristlebot, which gets its name because it uses bristles from a toothbrush as feet.
So, how do you get a robot to drive toward a light? The robot will use two light sensors, which are special electronic parts that are sensitive to light. The light sensors are connected to an electrical circuit, or collection of electronic components that serve a specific purpose, and acts like the robot's "brain." The circuit in your robot will control two vibrating motors, which is like how an insect's brain controls its muscles. The motors will make the robot vibrate and buzz along, and can also steer the robot left and right. All of this might sound complicated, but do not worry! The Procedure for this project will show you, step-by-step, how to build the robot and assemble the circuit, and you will learn about the different circuit parts as you go along. (For a detailed explanation of how the circuit works, including a circuit diagram, see the Help section). You can also check out the Science Buddies Electricity, Magnetism, & Electromagnetism Tutorial to learn more about electricity in general.
Terms and Concepts
These terms are used in the Introduction:
Phototaxis
Biologically inspired (or bio-inspired)
Bristlebot
Light sensor
Circuit
Motor
These circuit terms are referenced in the Procedure:
Breadboard
Jumper wires
Potentiometer
Resistor
Switch
MOSFET
Photoresistor
These terms are used in the advanced explanation in the Help section:
Voltage divider
Ohm's law
Terms related to the MOSFET:

Gate
Drain
Source
Threshold voltage
Saturation
N-channel MOSFET
P-channel MOSFET
Questions
What is phototaxis? What are the different kinds of phototaxis?
What are some examples of different types of biologically inspired robots? Hint: Do an internet search for "biologically inspired robot," or think of an animal and do a search for that type of robot, such as a "cheetah robot")
What are the main parts of the light-tracking bristlebot, and how are they similar to the parts of an insect?
How is the light-tracking bristlebot able to steer left and right?
Materials and Equipment
Advanced Bristlebots Robotics Kit, available from our partner Home Science Tools. You will need these items from the kit:

Mini breadboard
2xAAA battery holder
AAA batteries (2)
Mini vibration motors (2)
Toggle switch
10 kΩ potentiometers (2)
N-channel MOSFETs (2)
Photoresistors (2)
1/2 inch yellow jumper wires (2)
1/2 inch red jumper wire
1/2 inch black jumper wire
3/4 inch black jumper wires (2)
1 inch black jumper wires (2)
Note: This kit also contains materials to build a Build a Solar-Powered Bristlebot

You will also need to gather these items, not included in the kit:

Identical toothbrushes with slanted bristles (2)
Scissors or wire cutters
Double-sided foam tape
Optional: Craft materials to decorate your robot (such as googly eyes, colorful pipe cleaners, etcetera)
Flashlight
Smooth surface for testing the robot (the toothbrush bristles will get stuck on rough surfaces)
Lab notebook
Experimental Procedure
Global Connections
Variations
Frequently Asked Questions (FAQ)
If you are having trouble with this project, please read the FAQ below. You may find the answer to your question.
Careers
If you like this project, you might enjoy exploring these related careers:
Contact Us
If you have purchased a kit for this project from Science Buddies, we are pleased to answer any question not addressed by the FAQ above.
In your email, please follow these instructions:
What is your Science Buddies kit order number?
Please describe how you need help as thoroughly as possible:

Examples

Good Question I'm trying to do Experimental Procedure step #5, "Scrape the insulation from the wire. . ." How do I know when I've scraped enough?
Good Question I'm at Experimental Procedure step #7, "Move the magnet back and forth . . ." and the LED is not lighting up.
Bad Question I don't understand the instructions. Help!
Good Question I am purchasing my materials. Can I substitute a 1N34 diode for the 1N25 diode called for in the material list?
Bad Question Can I use a different part?
Contact Us
Related Links
Cite This Page
General citation information is provided here. Be sure to check the formatting, including capitalization, for the method you are using and update your citation, as needed.
MLA Style
APA Style
Last edit date: 2023-11-18