Teacher Puts Black History Month on the Door to Science Class
This teacher is emphasizing Black History Month in STEM education and helping students learn more about scientists and engineers every time they walk through the door to her classroom.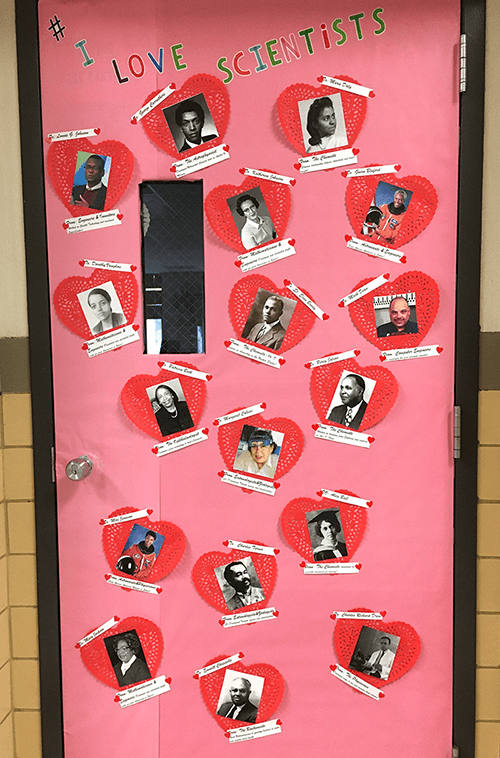 February is Black History Month, but the month also includes Valentine's Day and Heart Health Awareness. All of these observances offer opportunities for educators to make science, technology, engineering, and math (STEM) connections with students of all backgrounds.
Teacher Helps Students Learn More about Scientists and Engineers
Juanita Hartmann, a science teacher at Ritenour High School in St. Louis, MO, was inspired by a recent Science Buddies newsletter highlighting our Black History Month resource.
"I have been using your site to help my students with their research project," says Juanita, who teaches physical and biomedical science courses. "I was intrigued by the layout of all the black scientists from various professions and dug deeper into the links." Using information about each of the scientists and engineers highlighted, Juanita decorated her classroom door to highlight both Valentine's Day and Black History Month.
"Our school has a highly diverse population of students, and I wanted to share the scientists with my students in a unique way," says Juanita about her "I Love Scientists" door project.
When asked about the importance of introducing students (at every grade level) to a wide range of scientists and engineers, Juanita says: "Students in every class need to be exposed to the legacy of who and when milestones have been accomplished. When students can visualize scientists as role models, whether they look like them or not, they can be inspired to reach for a goal so they can be the next inspiration."
Thank you to Juanita for sharing her story and the photo of her "I Love Scientists" door. We love seeing STEM teachers spread diversity awareness and messages of inclusion in all forms.
Bring Black History Month into Science Class
To help students get started learning more about a few of the many African American scientists and engineers who have made a difference (and continue making a difference) in science history and to help them make connections with their own interests and possible STEM career paths, see the Learn More About these 35 Scientists for Black History Month. (A worksheet is provided for STEM career reflection.)
See also, Women in STEM! More than 60 Scientists and Engineers for Women's History Month and 16 Women in Engineering to Learn More About.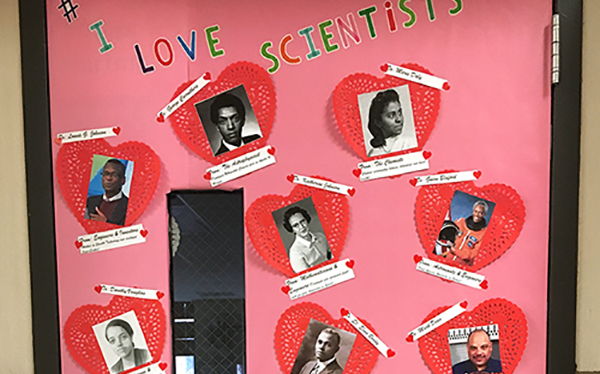 Categories:
You Might Also Enjoy These Related Posts:
Explore Our Science Videos
Make a Hygrometer to Measure Humidity – STEM activity
Harvest Water from Fog Science Project
Build a Model Recycling Sorting Machine