Women in STEM! More than 60 Scientists and Engineers for Women's History Month
March is Women's History Month! Learn more about women in STEM in science history and get inspired! More than 60 profiles of scientists and engineers!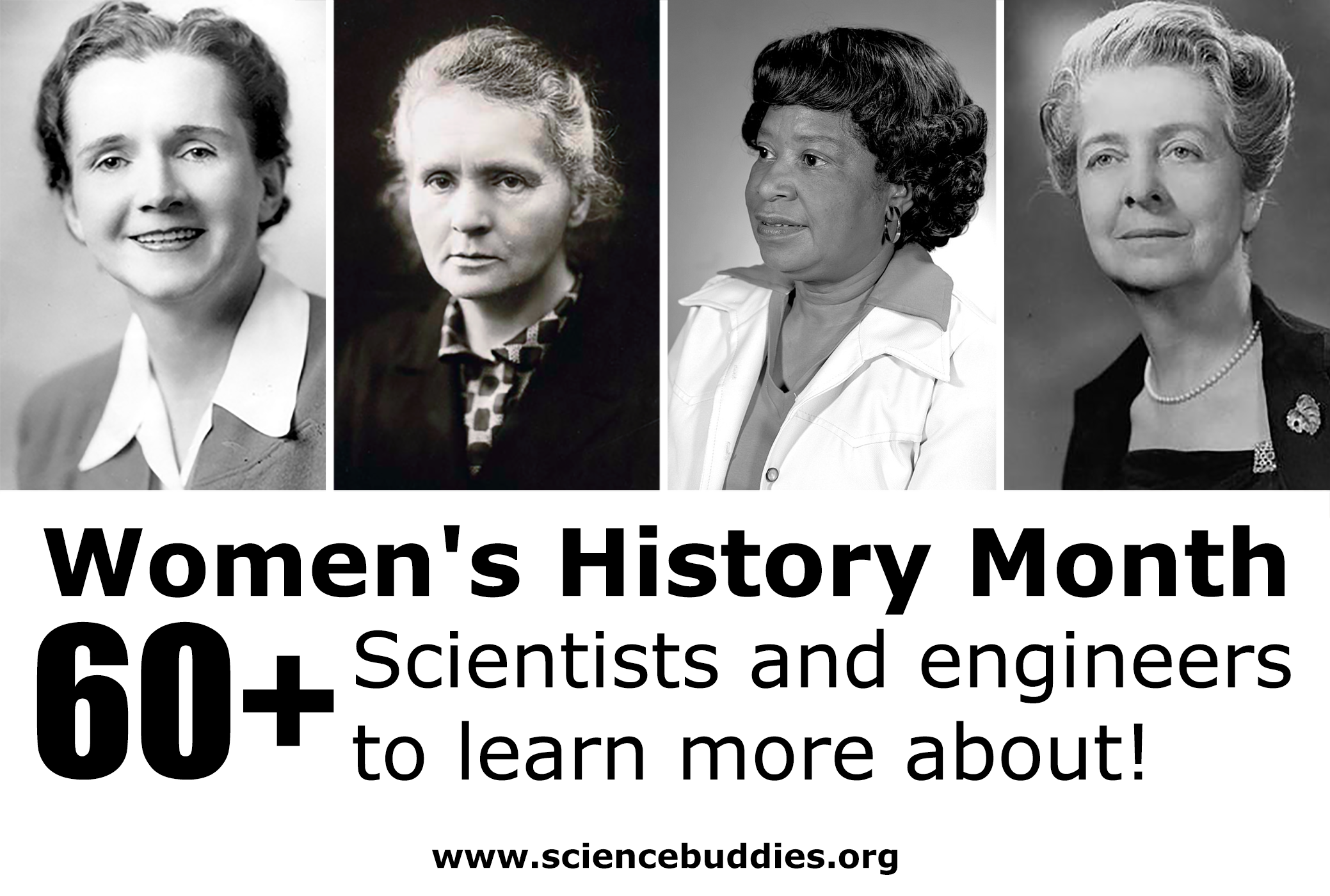 Women's in STEM for Women's History Month: 60+ Scientists to learn more about!
Update! This post has been updated for 2023 to highlight additional scientists and engineers!
There have always been women in science. Whether recognized at the time or not, women interested in science and engineering have made important discoveries, conducted game-changing research, and pursued careers in science, technology, engineering, and math (STEM). Uncovering and sharing these stories and encouraging girls to see themselves as future scientists is important, ongoing work for science educators.
There are, of course, far too many women in science history to put on a single list, but the more scientists you and your students know about, the better! This resource can be used during Women's History Month and year-round to celebrate, recognize, and talk about inspiring women in science. We encourage educators to pair learning more about women in STEM with student reflection on personal interests and possible career paths, too.
We hope seeing lists like this (and related lists) broadens awareness and helps inspire students to learn more about these scientists and to explore related science projects, activities, and careers.
How to Use this Resource
For each scientist, we have included a short biographical note, a link to one or more hands-on science projects or activities related to the scientist's area of study, a link to a relevant science career profile, and a link to a biography to help students learn more about individual scientists. Educators can use this career worksheet to guide student exploration and reflection about STEM careers.
Women in Science and Engineering
Further Reading
Preschool/Elementary School
Grades 5+ / Middle School
High School/Adult
For additional STEM reading suggestions, see our STEM reading list.
Diversity in STEM
To help students see themselves with a future in STEM and to broaden understanding of science history, it is important for students to learn about a diverse range of scientists and engineers. This includes celebrating the stories of women, African American, Asian American Native Hawaiian/Pacific Islander, Hispanic, and Native American scientists and engineers, scientists with disabilities, and other scientists from around the world.
Images: public domain or fair use, with exception of:
June Almeida (credit: Joyce Almeida)
Linda Buck (CC BY-SA 3.0; The Royal Society)
Emmanuelle Charpentier (CC BY-SA 4, Emmanuelle Charpentier)
Jennifer Doudna (CC BY-SA 3, The Royal Society)
Gertrude Elion (CC BY-SA 4.0; GSK Heritage Archives)
Thelma Estrin (CC BY-SA 3.0; User:Achituv)
Irene Fischer (CC BY-SA; Digital Commonwealth Massachusetts Collections Online)
Biruté Galdikas (CC BY-A 2.0)
Andrea Ghez (credit John D. and Catherine T. MacArthur Foundation)
Jane Goodall (GNU Free Documentation License, Version 1.2; Muhammad Mahdi Karim)
Stephanie Louise Kwolek (CC BY-SA 3.0; Science History Institute)
Esther Lederberg (The Esther M. Zimmer Lederberg Trust)
Inge Lehmann (CC BY-SA 4; The Royal Library, National Library of Denmark and University of Copenhagen University Library)
Sara Seager (CC BY-SA 3.0; Science History Institute)

Categories:
You Might Also Enjoy These Related Posts:
Explore Our Science Videos
DIY Light Up Unicorn Headband
Explore Concave and Convex Mirrors– STEM Activity.
Investigate Alien Genetics