18 Animal Science Lessons and Experiments
Use these free STEM lessons and activities to teach about animal behavior, animal anatomy, and adaptations as you explore animal science K-12 students.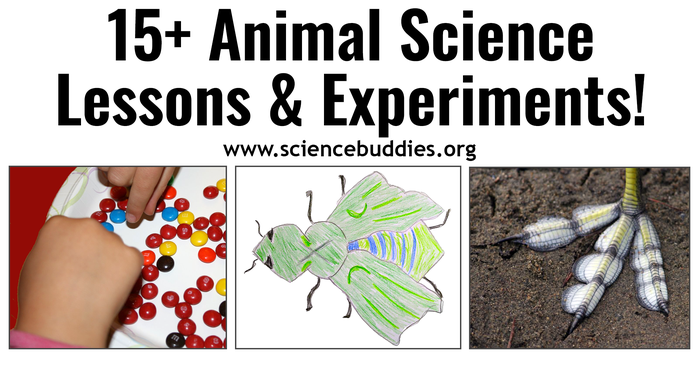 The free STEM lessons and activities below help students learn about animals and animal science, including habitats, adaptations, animal behavior, and other zoology and mammalian biology topics. For key terms to review with students, see the list of vocabulary words at the bottom of this resource. For students looking for science projects, we have included a list of independent science and science fair projects.
To make it easier to find resources to fit specific curriculum needs, the resources below have been grouped in the following categories:
Note: Science Buddies Lesson Plans contain materials to support educators leading hands-on STEM learning with students. Lesson Plans offer NGSS alignment, contain background materials to boost teacher confidence, even in areas that may be new to them, and include supplemental resources like worksheets, videos, discussion questions, and assessment materials. Activities are simplified explorations that can be used in the classroom or in informal learning environments.
Lesson Plans and Activities to Teach About Animal Science
Habitats
Body Structures and Adaptations
Behavior
Animal Science Projects for Students Doing Independent Science Projects or Science Fair
Students looking to do science projects or science fair projects about animals and animal science can explore independent student projects in areas of:
The following projects give an idea of the kinds of science questions experiments students can explore with independent science projects:
Teaching About Animals in K-12
Note: For additional educator resources to teach about habitats, biodiversity, environmental science, and Earth Day, see Earth Day Science Activities and Teach About Biodiversity with Free STEM Lessons & Activities.
Vocabulary
The following word bank contains words that may be covered when teaching about biodiversity using the lessons and activities in this resource.
Amphibian
Animal classification
Adaptation
Basic needs
Behavior
Biodiversity
Biology
Camouflage
Carnivore
Cold-blooded animals
Ecosystem
Endemic species
Extinction
Food chain
Food web
Habitat
Herbivore
Hibernation
Insects
Invertebrates
Macroinvertebrates
Mammalian biology
Migration
Needs
Predator
Prey
Reptile
Survival
Vertebrates
Warm-blooded animals
Zoology
Thematic Collections
Collections like this help educators find themed activities in a specific subject area or discover activities and lessons that meet a curriculum need. We hope these collections make it convenient for teachers to browse related lessons and activities. For other collections, see the Teaching Science Units and Thematic Collections lists. We encourage you to browse the complete STEM Activities for Kids and Lesson Plans areas, too. Filters are available to help you narrow your search.
Note: Arctic fox image, Wikimedia, Creative Commons Attribution 3.0
Categories:
You Might Also Enjoy These Related Posts:
Explore Our Science Videos
How Strong Is Your Hair? – STEM Activity
Magic Triangles - Fun Math Puzzles with Increasing Difficulty