Earth Day Science Activities
Use these free STEM lessons and activities to celebrate Earth Day and explore related environmental science aimed at using STEM to help protect the Earth and solve challenges we face for the future.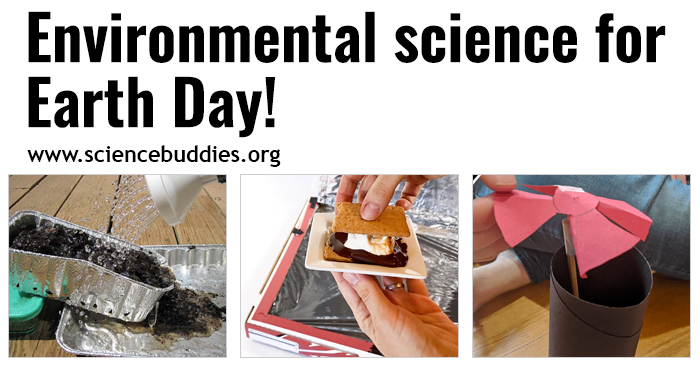 Since its start in 1970, Earth Day has become a global day of activism and learning about environmental topics related to protection of the Earth, its natural resources, and species. Climate change, global warming, deforestation, air pollution, water pollution, and loss of biodiversity are just a few of the many environmental issues that threaten the health of our planet. Learning the science behind these issues is a first step to creating strategies and solutions for conserving energy and natural resources, reusing and recycling materials, protecting habitats and ecosystems, and slowing global warming.
The free STEM lessons and activities below offer classes and families a variety of hands-on learning opportunities related to environmental science and Earth Day. In these activities, students can explore the use of STEM to help find and create solutions for global problems related to energy, recycling, sustainability, deforestation, clean water, climate, soil erosion, fossil fuels, and more.
Hands-on Science and Engineering Activities for Earth Day
The 20+ free STEM lessons, projects, and activities below have been grouped thematically to highlight environmental science challenges and potential STEM-based solutions:
A word bank of vocabulary words has also been included.
Solutions for Sustainable Energy, Alternative Energy Solutions, and the Conservation of Energy
Understanding Your Ecological Footprint



In the Rapid Trash Assessment lesson, students survey a local area to record the types of trash they find. Investigating to see the correlation between the shape of the Earth's surface and where pollution accumulates, students reference a topographical map of the area and use paper and markers to create a 3-dimensional model of the trash and litter they find.




"Fresh Food In Garbage Can to Illustrate Waste" by SpeedKingz/Shutterstock.com

Food waste reduces how effectively available food supply is used around the world. In the Food Waste Audit lesson, students track and monitor their own food waste and then analyze patterns of food waste and strategize ways to reduce food waste.




Your Plan, Your Planet is a free, interactive, online tool created by Google in partnership with the California Academy of Sciences and the Ellen MacArthur Foundation. With a series of interactive, game-like activities, Your Plan, Your Planet helps students learn more about sustainability and the kinds of changes they can make at the individual and family level to help ensure a healthy planet today and tomorrow. The following lessons can help you do guided exploration using the online tool:

Note: These lessons are NGSS-aligned for elementary and middle school educators, but both lessons can be adapted for use with students in other grades or by families at home.

For more information about using Your Plan, Your Planet at home or in the classroom, see: Your Plan, Your Planet for Earth Day.

Be inspired! See this teacher's story about exploring sustainability with students.
Solutions for Clean and Available Water
Understanding Environmental Challenges and Threats to Habitats and Ecosystems
Engineering Solutions for Monitoring and Protecting Earth's Ecosystems, Biomes, and Biodiversity
Related Resources for Teaching About and Exploring Environmental Science and Green Chemistry
Earth Day Vocabulary
The following word bank contains words that may be covered when teaching about environmental science and Earth Day using the lessons and activities in this resource.
Alternate energy
Biodiversity
Carbon footprint
Climate change
Coagulation
Conservation
Deforestation
Drinking water treatment plant
Ecological footprint
Energy conservation
Environmental science
Flocculation
Fossil fuels
Habitat
Living roof
Non-renewable energy (or resource)
Recycle
Reforestation
Renewable energy (or resource)
Rooftop garden
Solar disinfection (SODIS)
Solar power
Sustainability
Total suspended solids (TSS)
Urban heat island effect
Books for Your Shelves
If you and your students are interested in biodiversity, Earth Day, and environmental science, the following Science Buddies books may be a good addition to your classroom or home library shelves!
Thematic Collections
Collections like this help educators find themed activities in a specific subject area or discover activities and lessons that meet a curriculum need. We hope these collections make it convenient for teachers to browse related lessons and activities. For other collections, see the Teaching Science Units and Thematic Collections lists. We encourage you to browse the complete STEM Activities for Kids and Lesson Plans areas, too. Filters are available to help you narrow your search.
Categories:
You Might Also Enjoy These Related Posts:
Explore Our Science Videos
What are the Chances? – A Probability STEM activity
Magic Triangles - Fun Math Puzzles with Increasing Difficulty
Model How Herd Immunity Works