Robotics Projects, Lessons, and Activities for Teachers
Use these free STEM lessons and activities to introduce and experiment with robotics with students. From designing and building simple robots to thinking about how robots can be used to solve real-world problems, these hands-on projects help students gain and practice circuit-building and robotics engineering skills.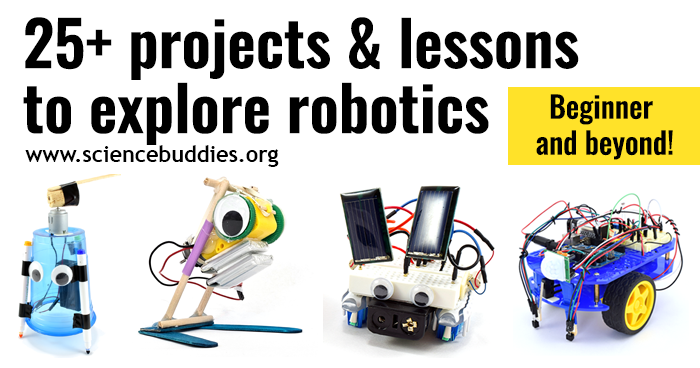 The free STEM lessons, projects, and activities below help introduce students to robotics, robotics engineering, and the kinds of algorithmic thinking used to program, control, and automate robots. In these projects, students will learn about designing robots, building circuits, using sensors to direct robot behavior, controlling robots remotely, and programming robots to perform specific tasks and functions.
To help educators choose lessons and activities that meet certain curriculum needs and student experience and readiness, the resources below have been grouped as follows:
Note: These groupings are thematic and do not necessarily correlate to difficulty.
Note: Science Buddies Lesson Plans contain materials to support educators leading hands-on STEM learning with students. Lesson Plans offer NGSS alignment, contain background materials to boost teacher confidence, even in areas that may be new to them, and include supplemental resources like worksheets, videos, discussion questions, and assessment materials. Activities are simplified explorations that can be used in the classroom or in informal learning environments. Student projects that appear below contain experiments that can be effectively adapted for use by educators for teaching about the topic.
Lesson Plans and Activities to Introduce Students to Robotics
Projects and Lesson Plans for Intermediate Robotics
After students have experimented with simple circuits and basic robots, they are ready to explore robots designed for specific functions and with more complex circuits and sensors to give robots certain behaviors.
Projects for Continued Robotics Exploration
Students interested in expanding their robotics projects to include more advanced robots, programmable and autonomous robot behaviors, alternative materials and form factors, and specialty robots can get started with projects like the ones highlighted below.
Explore Robotics without Specialty Materials
In addition to building robots, students interested in robotics can explore the challenge of controlling robots, various approaches to designing robots, and the relationship between living organisms and robots.
Teaching About Robotics in K-12
There are many opportunities for educators to teach about robots and robotics engineering throughout elementary, middle, and high school. With only a motor and a battery, students can make basic robots and learn about circuits and think about the design of robot bodies and the materials used to build robots. With even the simplest of robots, students can make and test design changes (like the shape, angle, or number of toothbrush heads in a bristlebot) to make connections with the engineering design process. Games and activities related to controlling robots and providing remote control instructions enable non-electronic exploration.
From basic robots, students can move on to more complicated circuits and the use of sensors to add specific behaviors to robots and to create robots that respond to their surroundings. Programming behaviors and functionality is a next step. As students explore more sophisticated robots, they also have the opportunity to investigate the use of robots designed for use in a variety of real-world settings. Not all robots are designed the same, and understanding the relationship between design and function is an important concept for students. Not all robots are humanoid!
Vocabulary
The following word bank contains words that may be covered when teaching about robotics and robotics engineering using the lessons and activities in this resource.
Actuator
Arduino
Articulation
Artificial intelligence (AI)
Automation
Autonomous vehicle
Autonomous underwater vehicle (or AUV)
Bioinspired (and bioinspiration)
Biomimicry
Circuits
Code
Closed circuit
Computer Aided design (CAD)
Computer Aided Manufacturing (CAM)
Degrees of freedom
Droid
Drone
Dynamics
Electronics
Engineering design process
Friction
Human-robot interaction
Humanoid
Iteration
Kinematics
Motor
Open circuit
Path
Program (programming)
Remotely operated vehicles (ROVs)
Robot body
Robot design
Robotics engineering
Rover
Self-driving car
Sensor
Simulator
Short circuit
Unmanned Aerial Vehicles (UAVs)
For Your Shelves
If you and your students are interested in robotics, the following Science Buddies book may be a good addition to your classroom or home library shelves!
Additional Support for Student and Family Exploration
Students and educators interested in exploring robots can find additional projects and activities at Science Buddies:
The following posts and stories can help inspire and support students who are interested in robotics engineering and families and educators doing robotics projects and activities with kids:
Making Connections
For related resources to explore electricity and circuits, see the following educator resource collections:
Thematic Collections
Collections like this help educators find themed activities in a specific subject area or discover activities and lessons that meet a curriculum need. We hope these collections make it convenient for teachers to browse related lessons and activities. For other collections, see the Teaching Science Units and Thematic Collections lists. We encourage you to browse the complete STEM Activities for Kids and Lesson Plans areas, too. Filters are available to help you narrow your search.
Categories:
You Might Also Enjoy These Related Posts:
Explore Our Science Videos
Build A Solar Updraft Tower!
Design and 3D Print a Snowflake