Free science project support in the Ask an Expert forums
Thanks to a dedicated team of volunteers, students working on science and engineering projects can get extra one-on-one assistance in the Ask an Expert forums at Science Buddies. Learn more about using the free Ask an Expert forums.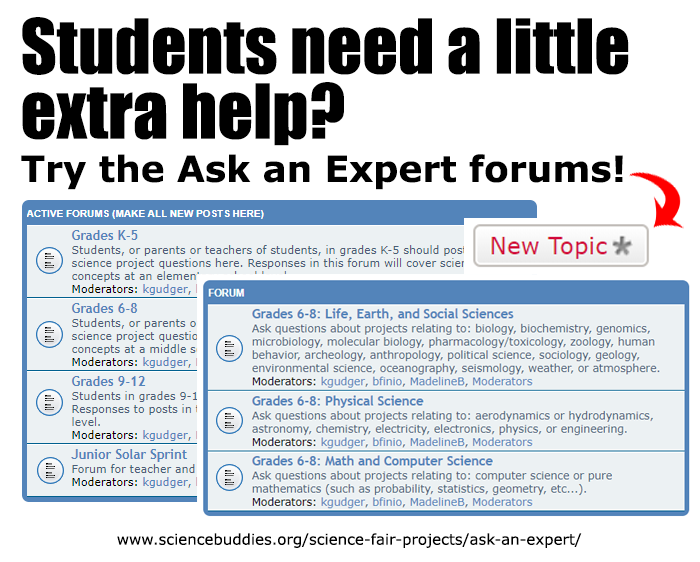 Students need a little extra help? Try the Ask an Expert forums!
Ask an Expert is an online bulletin board system where students (and parents and teachers) can ask questions about their K-12 science and engineering projects. Using Ask an Expert is completely free, and students can post their questions at any time. A team of science professionals and top high school science students volunteer their expertise in the forums to help answer student questions in a wide range of science fields. These volunteers share Science Buddies' dedication to helping support science education and access to hands-on science for all students.
We know that teachers provide as much assistance as they can during class time, at lunch, and even after school, but many students need additional help with their projects, and that help may not be available at school or at home. At Ask an Expert, students can ask questions at any time and interact with Experts who are available to add an additional layer of support. This extra support can make a big difference for students.
Ask an Expert is not a substitute for students doing their own science projects. At Ask an Expert, students will not receive answers to homework questions or results for their projects, but if they need a sounding board for their ideas, need help finding or refining a project, need assistance understanding how to write a hypothesis or how to identify variables in a project, get stuck and need help troubleshooting an experiment, or have questions about analyzing their data, Experts may be able to provide just the help the student needs to move ahead with or complete a project.
We encourage you to recommend the Ask an Expert forums to your students as a resource for additional support for hands-on science and engineering projects.
Getting the Most from Ask an Expert
Ask an Expert does not offer real-time support, so it is important that students understand how to use the forums and what to expect after posting a question. We recommend reviewing the following steps and guidelines with students.
Ask a Question!
To post a question at Ask an Expert:
Make sure you are logged in.

Tip: you can always check to see if you logged in by looking at the top right corner of the Science Buddies website.

Go to the Ask an Expert forums and select the forum that best fits the student's grade level.

Note: there are a few forums that are not sorted by grade, like the forum for questions related to the Junior Solar Sprint, but for general science and engineering project support, most students should choose the forum that is most appropriate for their grade level.

Then select the area of science that best fits the project (e.g., Life, Earth, and Social Sciences; Physical Science; or Math and Computer Science).

Note: the description of each forum lists areas of science that fit within these larger divisions to help students determine which forum to choose.

After navigating to the correct forum, click the "New Topic" button to post a question.
Fill in all fields, as shown in the screenshot below.

A cropped screenshot of a new topic post creator in the Ask an Expert forum on ScienceBuddies.org has fillable fields for a subject line and body as well as a list of options below. The body of the post names the project that is being worked on as well as the problem or question that needs answering. A submit button is highlighted below the body. A checkbox is ticked to 'Notify me when a reply is posted' in the options section at the bottom of the new topic post page.

When creating a post, as shown above, be sure to:

Identify the subject of the project in the title. This helps Experts immediately know more about your question. Do not use titles like "Need help" or "Help ASAP!" as these titles do not offer any information about the project or problem.
Summarize the subject of the project in your post. If the project is from Science Buddies, include the title of the project so that Experts can look at the project directions to better help you.

Note: students can ask questions about any hands-on K-12 science project. The project does not have to be from Science Buddies.

Clearly explain what steps you have taken and what question(s) you have or what problem you are having. The more information you can provide about what is happening, the better Experts can assist you.
After writing your question, click the "Notify me when a reply is posted" option at the bottom so that you will receive an email when someone responds to your post.
Click "Submit" to post your question.

It may take a few days for an Expert to respond. Be sure to check back for an answer. If you checked the box for notifications when making your post, you should receive email when someone replies. You can view your thread at any time by going to Ask an Expert and clicking the Quick Links button and then choosing "Your posts."

A cropped screenshot of a quick link drop-down menu in the Ask an Expert forum on ScienceBuddies.org. From the top-down the links are for Your posts, New posts, Unread posts, Unanswered posts, Active topics, Search, Members, and The team. The 'Your posts' option is highlighted in the screenshot.

Note: it is important that students understand that questions are not immediately answered. The Ask an Expert forums are not necessarily a good place to get help with a project that has been left until the last minute!

If you have additional questions after receiving a reply, ask your new questions in the same thread. This helps Experts be able to see all of the questions and answers together. Many students receive back-and-forth assistance from Experts in the forums!
When you are finished using the forums, be sure and say thank you!
Reminders
Keep in mind that all correspondence will take place within the Ask an Expert forums, and all posts are public. No personal information is exchanged, and students should not include identifying or contact information in their posts (or request contact information). Posts that contain spam will be removed, and accounts will be deactivated.
Please note that the Ask an Expert forums are for questions related to K-12 science projects only. For additional information about using the Ask an Expert forums, please review the Ask an Expert Guidelines.
Inspiring Ask an Expert Success Stories
Hundreds of students receive assistance from Experts in the forums each year, and many of these students go on to successfully complete their science and engineering projects. Some students report back with news of their success at science fairs of all sizes. The availability of friendly help from Experts can make a difference in how students feel about their projects and how they ultimately view the experience of doing a science project assignment.
The following stories showcase a few of the many students who received support in the Ask an Expert forums:
Be a Part of Ask an Expert
Science professionals who are interested in helping support and encourage students working on hands-on science projects in a flexible, online environment can learn more about the Ask an Expert volunteer program at www.sciencebuddies.org/volunteer.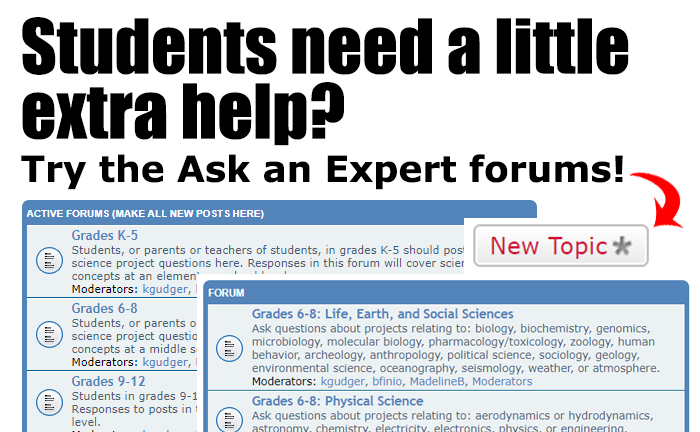 Categories:
You Might Also Enjoy These Related Posts:
Explore Our Science Videos
Junkbots Lesson Plan Introduction
Fun Physics with Your Cell Phone
Make Fake Snow - Craft Your Science Project