Balloon-powered Vehicle Success
Hands-on engineering got a boost of balloon power with the fun 2015 Fluor® Engineering Challenge. Congratulations to everyone who joined the challenge and shared their creation!
More than 1,500 kids around the world gathered balloons, CDs, tape, straws, and pennies in February and March to take part in the first K-12 Fluor Engineering Challenge. Perfectly timed to offer an exciting hands-on engineering activity for Engineers Week, the Fluor Engineering Challenge presented an exciting puzzle for students. How can you use the least materials from the approved list to build a balloon-powered vehicle that will carry the most weight across the finish line of the test area?
With no sample (that used only the allowed materials) provided as a model for the Balloon-Powered Car Challenge project, kids were encouraged to design their own vehicles, put them to the test, and then redesign and retest, as needed, to get the best combination of materials and performance. This was a wonderful opportunity for students to put the Engineering Design Process in action!
It was exciting to see submissions coming in from students ranging in age from 4 to 18. Hundreds of images poured in to Science Buddies as the deadline for entries approached.
As the submissions arrived, the power of hands-on engineering activities for students was abundantly clear. There were all kinds of exciting, innovative, and creative balloon-powered vehicles designed, built, and tested by students in response to the challenge project. Presented with the challenge, the list of materials, the objective, and the guidelines for calculating a final score, students didn't follow a cookie-cutter approach to building their vehicles. The innovation, imagination, and engineering spirit demonstrated by those who took the 2015 Fluor Challenge was awesome!
The photos above show just a small sampling of the many, many student entries. As you can see, students had all kinds of creative ideas for how to accomplish the goal. Which designs do you think worked best? Why? Grab some materials and build your own to find out!
Congratulations to the team from Coppell Middle School East in Coppell, Texas, whose team entry won the random drawing for the 2015 Fluor Engineering Challenge and earned $1,500 USD from Flour for their school!

Fluor is a registered service mark of Fluor Corporation. All rights reserved.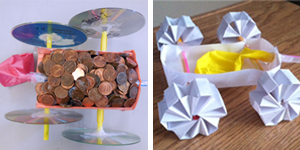 Categories:
You Might Also Enjoy These Related Posts:
Explore Our Science Videos
How to Make a Homopolar Motor - Science Experiment
What are the Chances? – A Probability STEM activity
Underwater Color Bursts – STEM Activity