Thanks to help from a team of volunteers at PPG, a cosmetics-focused student chemistry project got a "lift." The updated project gives interested students the chance to create and test a homemade lip balm product using quantitative analysis in keeping with the requirements for many student science project assignments.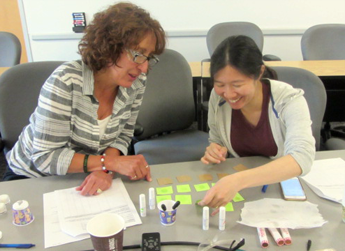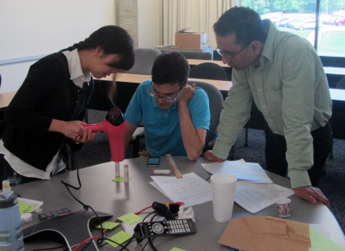 Cosmetics and Chemistry
Behind the array of products lining cosmetics aisles and counters is the work of many scientists. Successful cosmetics depend upon science and scientific testing to find formulas for products that users will love. A product needs to hold up well in a variety of situations, work well, and appeal to customers in terms of feel, smell, and even taste. There are thousands of ingredients from which to choose when developing a product, and cosmetics chemists perform extensive testing and make careful decisions based on properties of individual ingredients and how ingredients work in combination.
In the Cosmetic Science: Testing Lip Balm Recipes science project, students make their own lip balm using different ingredients and then test the lip balm to find out which ingredients make the most moisturizing lip balm. In the project, students learn about various kinds of ingredients, including oils, butters, and waxes, and investigate the ratio between emollients and waxes in a lip balm formula.
After making batch samples of lip balms using varying amounts of beeswax, almond oil, and Shea butter, students do product testing to evaluate how well each lip balm recipe performs. The procedure guides students in testing the "water seal" for each lip balm, the way each lip balm reacts at various temperatures, and how well each lip balm sticks to the skin. In addition to quantitative testing, students may also wish to do qualitative testing with volunteers (e.g., friends, student peers, and family members) to see how their "laboratory" results compare to more subjective feedback they get from those who try their samples. Will volunteers like best the product that performed best in the quantitative testing?
For students interested in chemistry or product development, this project offers a well-rounded science experience that gives students a look at many parts of the process required in developing a product within the cosmetics industry.
PPG Volunteers Test Student Science Project
PPG volunteers tested the popular Science Buddies project as a group service activity at their headquarters in PA. Science Buddies is continually evaluating student projects and procedures to ensure that projects offer the opportunity for a successful and positive science project experience. Getting outside testing from volunteers at companies like PPG helps Science Buddies leverage volunteer expertise to create even stronger student science project procedures.
According to Sandra Slutz, Director of Science at Science Buddies, testing by the PPG team brought welcome change to the student chemistry project. "This was an older, but very popular, project where we saw lots of room for improvement," says Slutz. "We knew we wanted to simplify the materials, make the steps for making the lip balm clearer, and, most importantly, make this a more quantitative experiment where students could compare how well the different lip balm recipes performed." The emphasis on ensuring the project has quantitative rather than simply qualitative (e.g., it feels better or it tastes better) data points is important to Slutz and the team at Science Buddies. These changes make student projects more robust, but updating procedures to include quantitative measurements can be difficult.

"Coming up with an approach using quantitative measurements for the lip balm project was challenging," notes Slutz. "This is why it was so great to have not only our staff scientists, but a whole second team of scientists at PPG bringing their expertise and creativity to the problem. PPG volunteers were full of great ideas and spent quality time testing out those ideas to help find an approach that will work for students. With PPG's help, this project is now a much better reflection of how a cosmetics company might use science to systematically evaluate their products."

PPG previously provided volunteer support testing and improving another Science Buddies project, Column Chromatography: Can you Separate the Dyes in Grape Soda Using Space Sandâ"¢?.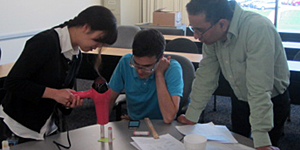 Categories:
You Might Also Enjoy These Related Posts:
Explore Our Science Videos
Lift Ice with Yarn STEM activity
Why Do Apples and Bananas Turn Brown? - STEM activity
Explore Concave and Convex Mirrors– STEM Activity.