Blending Science and Art with Paper Inventions
Makers of all ages can learn more about science and engineering through creative hands-on science and engineering projects. A book like Paper Inventions offers a great and wide-ranging collection of "to do" projects, perfect for winter break for kids (and their parents!).
Make: Paper Inventions: Machines that Move, Drawings that Light Up, and Wearables and Structures You Can Cut, Fold, and Roll
by Kathy Ceceri (Maker Media) highlights is that ordinary paper can be used in an exciting range of high- and low-tech projects that blend science and art.

In Paper Inventions, Ceceri takes engineers and crafters on a guided tour of twenty awesome projects that are, at the core, paper-based. In setting the stage for paper-based DIY science, technology, engineering, art, and math (STEAM) exploration, Ceceri covers the history of paper, walks readers through making their own paper (get your blender ready!), and even offers directions for making edible rice paper. Paper airplane enthusiasts and origami fans alike will recognize some common practices involved in making the paper creations in Paper Inventions, but mountain and valley folds are put to unexpected use in projects like self-folding paper models that fold up by themselves into a shape or structure when you heat them.
The inclusion of tech-inspired projects like paper circuits and paper generators is definitely what you expect from a book from MakerMedia press. Starting with popular paper circuits, Ceceri offers directions for a basic copper tape circuit and then extends the directions to include a pressure sensor, blinking and flickering effects, and even a "paper tilt sensor" that turns closing the circuit into something much like a handheld marble game. Two paper generator models let makers explore lighting up an LED through static electricity, either by rubbing or tapping materials.
Moving out of whiz-bang high-tech effects and into the realm of engineering and structural design, Ceceri reviews properties of paper and principles of design that influence how paper works when used as a building material. Making a tetrahedron from small rolls of paper is a great miniature project, one kids can then upsize by making a geodesic dome from rolled newspaper. From there, Ceceri guides makers in an exploration of paper machines—animated paper models or automata. In a series of paper machines, makers build hand-powered models that use various types of cams (egg cam, snail cam, and friction drive). Once built, the Cam Sampler Base project becomes the foundation for a more complex Space Rover automaton that appears to "bounce" over bumpy terrain and has a head that spins as it scans its surroundings.
The rest of the projects in Paper Inventions are low-tech. In projects that involve quilling and weaving, crafters use paper to make 3-D art. Origami and math are then combined to explore paper-based fractals and make a space dragon, a robot worm, and a simple fold-and-one-cut star. Makers learn about and experiment with the fascinating Mobius strip and are then guided in making a math classroom favorite, hexaflexagons.
The step-by-step projects in Paper Inventions are illustrated with clear diagrams and photos, and Ceceri includes variations and notes to help makers learn more about the topics covered. Templates are included at the back of the book for convenience.

An Inspiring and Well-rounded Collection
While similar projects can be found online, having the range of paper projects included in Paper Inventions all together creates a handy and enticing collection, one a paper enthusiast, robotics fan, engineer, or crafter will enjoy working through, one by one, to reveal and make some pretty cool paper contraptions and structures. Pair the book with a stack of colorful papers, some LEDs, a few coin cell batteries, and other crafting materials, and makers and DIYers of all ages can happily settle in to make a series of cool things...from paper.

Making Science Fair Connections
Students who enjoy projects from Paper Inventions can explore similar projects in the following science fair projects. Science Buddies' science fair project ideas give students a framework on which to develop independent science projects, suitable for science fairs or science project assignments. For hands-on K-12 projects and activities related to Paper Inventions, see:
For more fun STEAM activities for makers and crafters, see also this series on making fabric-based LED projects: Sewing Electronics: Wearables that Light Up and Wearable Electronics: Sewing an LED Patch.
See also our review of Robotics: Discover the Science and Technology of the Future by Kathy Ceceri.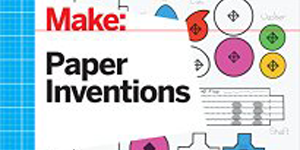 Categories:
You Might Also Enjoy These Related Posts:
Explore Our Science Videos
Why Soda Fizzes – Boyle's Law Demonstration
How to Build a Toy Car - Science Project