Special Effects Fun with Nick and Tesla
This Nick and Tesla mystery guides readers in brewing STEM-based special effects that might be perfect for Halloween-themed fun.
Nick and Tesla's Special Effects Spectacular: A Mystery with Animatronics, Alien Makeup, Camera Gear, and Other Movie Magic You Can Make Yourself!
might be a just-right science-filled choice to tie in with trick-or-treat-fueled excitement.

The plot of this book, number 5 in the series, centers around movie-making, but with the twins exploring (and sharing with readers) special effects activities like making "Horrifyingly Horrible Alien Zomboid Makeup," this is a title that can carry middle readers right through Halloween and beyond.

We are big fans of the Nick and Tesla series. Check out our reviews of other titles in the series from Quirk Books.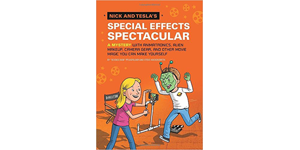 Categories:
You Might Also Enjoy These Related Posts:
Explore Our Science Videos
The Scientific Method: Steps and Examples
Turn Milk into Plastic! Lesson Plan Introduction
Popsicle Stick Chain Reaction -STEM activity