The Most Magnificent Thing: Science Reading
Another great read aloud book puts the engineering design process in action and in the hands of a charming young girl who has an idea for something she wants to build—and sets out to bring her idea to life.
The Most Magnificent Thing by Ashley Spires (Kids Can Press) is a wonderful story for young engineers. Similar in concept to Rosie Revere, Engineer, The Most Magnificent Thing is the story of a young girl engineer and her best friend, dog. From the outset, readers are told that Ashley loves to build and, at the beginning of the story, she is struck by an idea for what she believes would be "the most magnificent thing." She knows exactly what wants to build, but as she discovers, sometimes making an idea real isn't quite as easy as it seems and takes multiple attempts.
Up and down the street, she works on her invention. When one attempt isn't quite right, she moves to a new spot and begins again. Unfortunately, nothing she builds is exactly what she has in mind. Finally, she gets really frustrated and, momentarily, gives up. A long walk, suggested by dog, helps her settle down.
As chance and clever storytelling would have it, to get back home, she has to walk back by a long chain of her project attempts. As she passes each iteration, she suddenly sees that in some of them, there are things that are "right," things that might work even though they didn't work in that version.
Seeing all of her previous builds in a new light, she starts again and this time she succeeds in making her most magnificent thing. What did she build? You'll have to read the book to find out. After you do, go back to the beginning and see if you and your readers can find the foreshadowing... the little bit of a clue from the very beginning about what the young engineer has realized would be absolutely the most magnificent thing.
A Tribute to Making and Tinkering
The illustration in The Most Magnificent Thing is wonderful. The little girl wears a charming pink and red polka dot dress, but she is building something that involves all kinds of cast-off and odd-shaped parts, pieces, and materials. The language in this book is active, vibrant, and almost a thesaurus of terms and verbs about doing, making, tweaking, creating, and building. The Most Magnificent Thing is not told in rhyme, but please do read it aloud so that your listeners get to hear all these wonderful words related to engineering and making!
As a look at persistence and engineering, The Most Magnificent Thing is a wonderful storybook and offers an inspiring main character for young girls. The story does a really nice job enacting the engineering design process. The girl has an idea (a challenge or something that she has identified will make something better), and she sets out to build the solution she envisions. But there are many rounds (iterations) of building, testing and evaluating, and building again. This is engineering design in action!
Making Connections
If your readers get excited and inspired by this story of making and building and have their own ideas for "magnificent" creations, they may enjoy hands-on activities like these:
See also: Rosie Revere and Iggy Peck: Engineering Inspiration, Inspiring Future Female Engineers: GoldieBlox Goes to the Super Bowl and LEGO Movie Makes Engineering Awesome.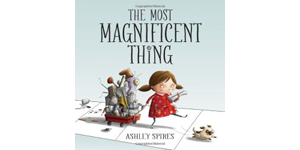 Categories:
You Might Also Enjoy These Related Posts:
Explore Our Science Videos
Draw with a Pantograph - STEM Activity
The First Cartoon: Make Your Own Thaumatrope!
Make a Model to Explore the Distance from the Planets to the Sun