Bristlebots at the Museum
Participants at a museum sleepover event in Utah may have packed a toothbrush for the night, but likely came home with an extra—a toothbrush robot they built and decorated themselves!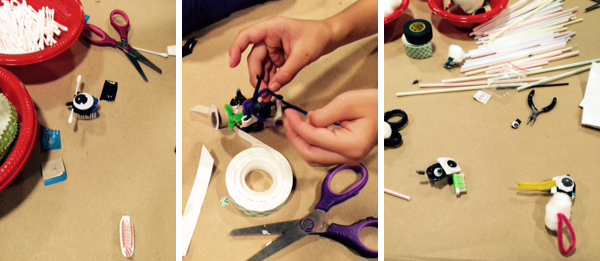 Guests at an NHMU sleepover event had a great time making, decorating, and testing Bristlebot robots.
Despite the craziness that the main character encounters in the Night at the Museum movie (and its sequels), a sleepover at a local natural history museum can be a safe, exciting, and educational opportunity for families, one loaded with creative hands-on science and engineering activities and projects. At a recent Natural History Museum of Utah (NHMU) Family Sleepover, 43 kids and 32 adults spent the night at the museum. As part of the night's activities, participants got to explore robotics by building bristlebots and brushbots.
As you can see from the photos NHMU shared with Science Buddies (above), the kids, ages 5-14, got super creative with their robot building! In addition to assorted supplies to personalize and decorate the robots, various kinds of toothbrush heads were available for the kids to explore. "The variety of brush types was great for kids to investigate with," says Shelli Campbell, Youth and Family Coordinator for the Museum.
According to Shelli, the robot building activity was a huge hit at the sleepover event. "Everyone loved the bristlebots," she reported after the event.
There were plenty of bristlebot-building experts on hand to help with the robotics activity, so printed directions were not needed at the sleepover, but Shelli reviewed the Science Buddies directions during her preparation for the event as she built and tested her own bots. "I do like your photos as they make it much easier to understand the step by step process," notes Shelli. "Pictures really are worth a thousand words!"
Given the wide age range of overnight attendees, Shelli notes that toothbrush heads can be a bit difficult to work with for the youngest of builders. "The surface of the toothbrush is just sometimes too small for the 5-6 year olds," says Shelli. "They get frustrated easily, and so we found we can only do this project/activity with this age range when we have parents to assist."
Bigger brush heads can make a difference, and for their next sleepover event, Shelli plans to experiment with the size of the brush heads, possibly using something in between toothbrush and scrub brush heads to make this introductory robotics activity even easier for the smallest of hands. She is already thinking ahead and planning to add other exciting options to the activity, too. "We'll also try some 'battle bots' using a small hula hoop as the 'ring,' as well as race tracks made out of cut PVC pipes," says Shelli.
The biggest problem Shelli says she has encountered doing bristlebots with kids—they all want to take them home!
Build Your Own
To build your own bristlebots or brushbots with your students or a group of students, see the following guided activities from the STEM Activities for Kids area:
Looking to take your Bristlebot building to the next level? Take a look at the Advanced Bristlebot kit and the light-tracking or solar powered bots you can make with it!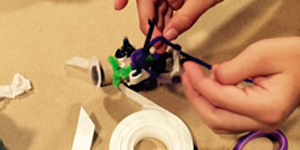 Categories:
You Might Also Enjoy These Related Posts:
Explore Our Science Videos
Create a Painting With Genetically Modified Bacteria
Introduction to Paper Chromatography | Theory and Practice
Reaction Rates: When Surface Area Matters! Lesson Plan Introduction