Chocolate Covered Candy Geodes
Two culinary students turn making chocolate-covered candy eggs into a masterful kitchen science experiment. These giant candy geodes took many months to make. Can you scale down the process and make your own?
Above: Video showing Alex Yeatts and Abby Lee Wilcox's chocolate covered candy geode being cracked open.
When faced with a fancy chocolate or a filled candy, do you ever carefully bite into it so you can see what is inside? Whether the inside is filled with nougat, a cream, a jelly, or something else, seeing the candy on the inside can be exciting.
Alex Yeatts and Abbie Lee Wilcox took this idea to new extremes by making their own chocolate covered geodes, chocolate-covered candies that are filled with rock candy inside. Opening these candies to see the inside involves cracking them, just like a rock geode.
Videos and images of Yeatts and Wilcox cracking open their fantastic and oversized chocolate covered edible geodes have been cropping up everywhere, just in time for the season's flurry of chocolate and candy eggs.
Yeatts and Wilcox didn't simply "fill" a chocolate shell, however. Instead, they put kitchen science in action and grew rock candy inside the shell. They left their geodes for six months to give the rock candy inside the chocolate shell time to form. During that time, they could not be certain what was happening inside the shell or how the crystallization process was going. When they cracked open the exterior, their patience was rewarded. The chocolate-covered candy geodes were full of gorgeous rock candy inside.
Can you take this idea and create your own candy geodes in a smaller version? Grab some sugar, some science, and head to the kitchen!
We would love to hear how you approach this experiment and how your candy geodes turn out!
The following projects and activities at Science Buddies may help in your candy geode making exploration:
The following video and image are from Wilcox's and Yeatt's Instagram feeds:
Students interested in this process may also find this video helpful: Rock Candy Edible Geode.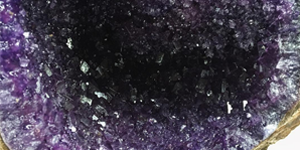 Categories:
You Might Also Enjoy These Related Posts:
Explore Our Science Videos
Make a Slushy! Yummy STEM Project
Make a Hygrometer to Measure Humidity – STEM activity
Hydroponics in a 2-Liter Soda Bottle – STEM activity.