Citrus Science Crisis: From Fruitful to Fruit 'fall'
Thanks to the Asian citrus psyllids, your breakfast cup of orange juice is at risk. Learn more about citrus greening, the threat to the citrus industry, and ways students can develop related hands-on science investigations.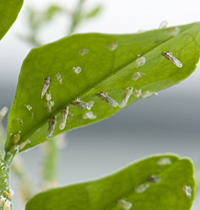 A Fruity Problem
Apple and orange growers, both, are fighting for the survival of their crops. The enemy—pests. The image above from the USDA shows leaves covered by Asian citrus psyllids in various stages of their life cycle.

Related Reading
Teresa Weir's memoir, The Orchard: A Memoir,
is the story of a young woman, an outsider, who ends up married to an apple farmer. The Orchard is gritty in terms of human relationships, but those relationships, hazy as if captured on old film, are set against the backdrop of a family apple orchard, one permeated with the smell, fog, and taste of round after round of pesticide. Weir witnesses one apple farm's pesticide-laden battles against the codling moths, sees the larvae infiltrate a year's crop, despite constant spraying, and watches two generations of farmers die of cancer. For adult readers.
Rachel Carson's date of birth (May 27, 1907) passed a few weeks ago, and as her book,
Silent Spring,
rose to the foreground in memory of her pivotal work in marine biology, conservation, and environmental science, stories of oranges and apples also rose, strands of the present mingling with specters of the past. There are proverbial warnings, of course, against the usefulness of comparing apples to oranges. What happens when you throw coffee beans into the mix? What commonality do they share?
Oranges, apples, and coffee beans are all being threatened by pests and pathogens, ones that are seemingly impervious to currently available pesticides and ones that threaten to bring down staple agricultural industries around the world.

Rotten at the Core
The codling moth (Cydia pomonella) and the light brown apple moth (Epiphyas postvittana). These are just two of a list of herbivorous pests from the lepidopteran family Tortricidae. Both have proven to have a destructive and pervasive impact on apple orchards and other fruit-bearing trees. Although there are non-chemical alternatives, pests like these are often treated, not always effectively, by wave after wave of pesticides.
The Pacific Northwest Management handbook lists twenty-eight different pests that specifically threaten or target apples. The codling moth is one of these. On the codling moth information page, there is a list of pesticides and treatments used to target the persistent and destructive pest. Treatments vary by time of year, but during summer months, there are sixteen different chemical applications listed for commercial use, some ovicidal, some larvicidal. Growers are also fighting the moth microbially using the codling moth granulosis virus, a virus that contains a "selective biological insecticide that must be ingested (by the pest) in order to be effective."
So there's the proverbial "worm"—the codling moth larva—at the center of the apple, but where do the oranges, with their thicker skins and lack of a core, come into this story?
Florida.

A Pending OJ Crisis?
Recent stories in both Scientific American and the New York Times have chronicled an alarming tale of invasion and a growing threat to the citrus industry.
The bacterial threat, referred to as citrus greening, Huanglongbing, Candidatus Liberibacter asiaticus, or yellow dragon disease, arrives with the Asian citrus psyllid, Diaphorina citri. Asian citrus psyllids feed upon their host plants, but their hunger is less destructive than the damage they do as carriers of the bacteria that causes citrus greening, bacteria for which scientists have found no effective treatment.
You won't pick up an orange and find a larva inside, but trees infected with citrus greening yield smaller, harder, and more bitter-tasting fruit—fruit that never fully ripens to its classic color, hence the "citrus greening" moniker. By sight alone, the effects of the disease are visible in the stunted crop. There is no cure, and once infected, plants typically die within a few years.
The danger to the citrus industry, and the challenge of eliminating the spread of the disease, led to the United States Department of Agriculture (USDA) imposing a quarantine in 2010. Under the quarantine, the transfer of certain plant materials and products between states was disallowed, an attempt to stop the transport of the disease out of states where citrus greening had (then) been detected: Florida, Georgia, the territories of Puerto Rico and the U.S. Virgin Islands, two parishes in Louisiana and two counties in South Carolina.
Citrus greening was first identified in Florida in 2005. Eight years later, citrus greening continues to work its way through the roots (and fruits) of the citrus industry. Recent stories about citrus greening have focused primarily on the growing impact of the disease in Florida, and in its coverage, the New York Times reports a stealthy migration of the disease from southern to northern Florida. Noting that the state's citrus industry has been in decline for the last 15 years, the New York Times story cites a 2012 report from University of Florida agricultural analysts that estimate that "citrus greening cost Florida's economy $4.5 billion and 8,000 jobs" between 2006 and 2012.
This year, the damage to citrus crops and the citrus industry is reportedly stacking up to be the most significant yet.

A Moving Target
Though Florida may be the poster child of the orange juice business in the U.S.—and possibly the unfortunate "face" of citrus greening—Florida is not alone in its struggle with the Asian citrus psyllid.
Save Our Citrus App
The USDA's free Save Our Citrus iOS app makes it easy for growers report and diagnose citrus problems. Not every failed crop signals invasion of the Asian citrus psyllid. There are other culprits, including citrus canker, citrus black spot, and sweet orange scab. The Save Our Citrus app encourages people to report symptoms and upload photos for evaluation from citrus experts.
Georgia, too, along with isolated parts of Louisiana and South Carolina, was included in the USDA's 2005 quarantine. But the creeping citrus blight has been on the move. Both Texas and California are implicated in the New York Times article, and a Google search on citrus pests immediately brings up the website for the California Citrus Pest and Disease Prevention Committee (CCPDPC), a committee of the California Department of Food and Agriculture. California isn't simply being proactive. California citrus, too, is at risk:
"The committee was created to advise the Secretary and the agricultural industry about efforts to combat serious pests and diseases that threaten the State's citrus crop. Most recently, for example, California's citrus growers are confronting the arrival of the Asian citrus psyllid, a tiny pest that can spread the fatal citrus disease huanglongbing. Multiple detections of the pest have been confirmed in southern California."
When it comes to citrus greening, it seems that citrus is citrus, and the Asian citrus psyllid isn't particular about its geography. The Asian psyllid is hungry and diplomatic in its trail of destruction. If it can find the grove, it will. And if one grove is treated, the pests may just move to a neighboring grove, a reality that makes the pest that much harder to eradicate. Individual growers, alone, cannot get rid of the Asian psyllid.

A Jolt of Caffeine
Apples. Oranges. And coffee?
Coffee fits into this story because what has happened with apples, and what is happening with citrus, parallels ongoing battles around the world with pests that target the coffee plant. The black coffee twig borer has long threatened coffee crops in Africa, and Hawaii's coffee industry is currently battling another pest, the coffee cherry borer.

Fighting Pests in the Fields
For farmers and growers, the race against species-specific pests—and the threat of pests finding a way to their crops—is an immediate challenge, a battle being waged every day, often with new rounds of pesticides in an attempt to salvage current crops, even when current treatments will not wipe out the source of the disease.
Students interested in agricultural and environmental science can jump into the mix of apples, oranges, coffee beans, and other pest-threatened crops with hands-on research projects that analyze what has happened, what is happening right now, and, ultimately, what can be done or tried next to deal with each specific pest in an effective but environmentally safe way.

Making Hands-on Student Science Connections
The following science projects offer inroads for student science investigations at all levels, from introductory explorations of natural alternatives to target specific pests and insects to plant biology and environmental projects related to pesticides and genomics projects that encourage advanced students to design custom research projects:

Further Reading
See Anna Kuchment's "No More OJ? An Invasive Insect Threatens the Citrus Industry" in Scientific American, March 2013 issue.
Categories:
You Might Also Enjoy These Related Posts:
Explore Our Science Videos
Flying Helicopters on Mars - Paper Models
Will 200 Sticky Notes Hold My Weight?
Science Buddies: Pilobolus Spore Sac Launch