Spark Interest in Computer Science
Computer Science Education Week is this week, December 4-10, 2017 — In addition to hands-on projects and career profiles to help students learn more about computer science and coding, Science Buddies has suggestions for teachers to build on the momentum and integrate computer science projects with other classroom subjects. Subjects like environmental science, history, and health offer exciting opportunities to have students create innovative apps, games, and educational tools. Presented with a problem to solve and a set of tools to use, students can brainstorm solutions based on computer science technologies and build and test prototypes that develop coding skills as a way of synthesizing and responding to other subject materials.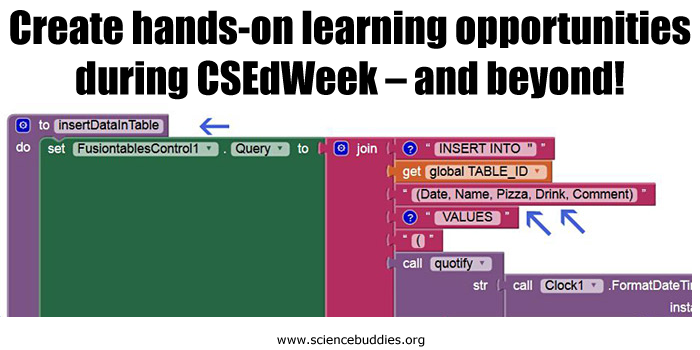 This week, millions of students in classrooms around the world will take part in Hour of Code activities or in similar projects aimed at increasing student exposure to computer science as part of Computer Science Education Week (CSEdWeek).
Choosing from dozens of available Hour of Code modules, students are encouraged to try a fun coding project and learn more about what it means to write a computer "program." These kinds of activities can have tremendous impact on the way students understand and think about computer programming as a skill they can develop and as a STEM career path. Much has been written about the need for today's students, tomorrow's STEM workforce, to move beyond being passive consumers of technology and to actively explore and create with technology. CSEdWeek and the Hour of Code help students take initial steps in interacting with code as creators. Science Buddies has resources to encourage and support next steps.
Build on Hour of Code Momentum
At Science Buddies, we believe in the power of hands-on STEM exploration for all students. We also know that students are more likely to enjoy a project if the project ties in with another area of interest. Hour of Code modules show kids that programming can be fun. Continuing the momentum can make all the difference. We encourage teachers to build on the interest and excitement generated during Hour of Code and CSEdWeek and create opportunities for students to use, practice, and develop programming skills in projects for other subjects and assignments, too.
By bringing computer science activities into history and environmental science discussions, for instance, teachers help create scenarios and assignments in which students can use computer science as a way to address real-world challenges. Working on real-work problem solving gives students immediate and concrete ways to work on projects that have meaning. Rather than focusing on coding activities simply to learn to code, teachers may find students more interested in programming when the programming is presented as a way to develop a creative response to another challenge, whether the response involves creating a helpful app, an educational game, or another learning tool.
Using Computer Science Skills in Other Classes
Science Buddies has a number of projects that offer examples of app creation or game design used as a way to respond to a problem or create a solution that may be the focus of other class subjects.
Learn More
For more about computer science and programming for K-12 students, see the following posts and resources on the Science Buddies site:
Categories:
You Might Also Enjoy These Related Posts:
Explore Our Science Videos
How to Make Elephant Toothpaste
How can air pressure prevent leaks?