Your Digital Classroom: Assign the Science Project with Google Classroom Integration
Did better productivity and classroom organization make your New Year's resolutions list for your science class? Give our Google Classroom Integration a try to make it easier than ever to assign and manage science projects with Science Buddies!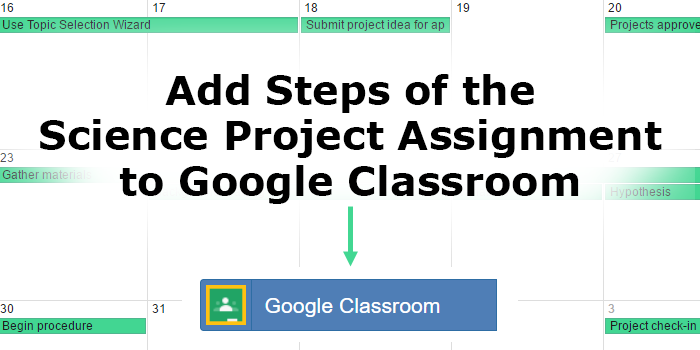 More and more classrooms are shifting the balance between printed handouts and the use of paperless and digital environments. If your school uses Google Classroom, our Google Classroom Integration tools allow you to easily make assignments, including science reading, project finding, project review, resource review, and even assessment quizzes from the Science Buddies website.
Google Classroom and the Science Project Assignment
Do you assign your students a "science project" or "science fair project"? These projects are often completed largely at home and independently. At Science Buddies, we encourage teachers to think about the "science project" assignment as an umbrella for a number of smaller assignments and check-in points. Breaking the large science project assignment into smaller tasks with individual due dates can greatly improve the science project experience for students and can help students stay on track from start to finish.
If your students are getting ready to begin finding and doing independent science projects, now is a great time to take a big-picture look at the flow of the science fair project assignment. By adding important stages of the assignment to Google Classroom, you can provide your students with an overview of the process and help them stay on track with a stepwise approach that helps keep their project organized and helps make sure they don't miss important steps along the way. In addition, having periodic check-ins helps you ensure that your students are where they should be with their projects and may help you intervene with students who are falling behind or having trouble.
Finding a project is the first step, and being able to assign the Science Buddies Topic Selection Wizard for project discovery and the related My Science Project worksheet (for project approval) makes it easy to help students locate well-constructed, scientist-authored, and scientist-reviewed project ideas and procedures. Depending on your assignment parameters, students may need to do additional background research or consider variations before selecting a project. Once a project is approved, consider assigning steps of the project from the Science Buddies Project Guide. For example, you might create assignments involving defining variables, writing the hypothesis, and gathering materials. As the project timeframe progresses, having tasks for completing the experimental procedure, analyzing data (or making charts and graphs), and working on the project display board provides students with a clear map of due dates and required steps for completing the project on time.
Teachers can find supporting material for science project assignments and science fair planning, including a Science Fair Schedule Worksheet and grading and judging rubrics in the Teacher area at Science Buddies.
Give Google Classroom Integration a Try
The following posts in our Digital Classroom series are designed to help you explore Science Buddies' Google Classroom Integration further:
Be sure and bookmark the Google Classroom Integration home page. If you have additional questions about using Google Classroom with Science Buddies, see our Google Classroom Integration FAQ or email us at scibuddy@sciencebuddies.org.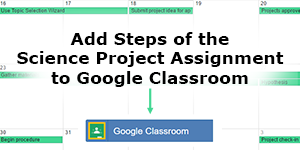 You Might Also Enjoy These Related Posts:
Explore Our Science Videos
A Candle Seesaw – STEM activity
Shrink a Potato with Osmosis – STEM activity