Your Digital Classroom: Try the Create Assignment Button at Science Buddies
Are you a veteran Google Classroom user? Is your school using Google Classroom for the first time with the coming school year? Science Buddies' Google Classroom integration is a powerful tool for science teachers and your science class! Plus, it's completely free! Give the "Create Assignment" button a try this summer while you plan for back to school.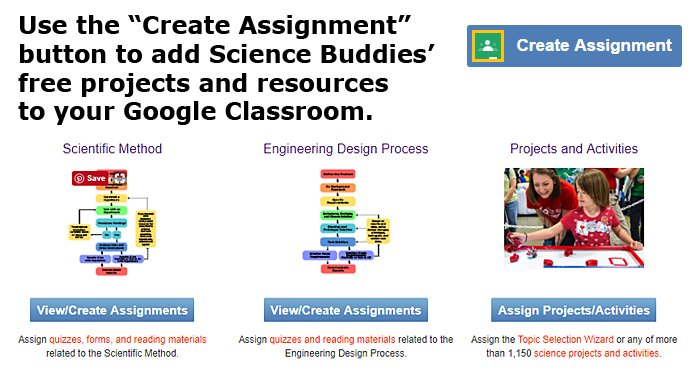 Use the "Create Assignment" button to add Scence Buddies' free projects and resources to your Google classroom.
Note! This post has been updated to reflect changes in Science Buddies' Google Classroom integration. To learn more about using the Google Classroom button, see Try the Google Classroom Button for Science Class.
For teachers with paperless classrooms, or teachers planning to go digital in the 2017-2018 school year, a classroom management system like Google Classroom is key to successfully making the shift from printed handouts to online assignments.
Science Buddies is proud to be an early supporter of Google Classroom's integration capabilities. Our "Create Assignment" button hooks right into your Google Classroom, allowing you to take advantage of Science Buddies' trusted resources for K-12 STEM education within your digital classroom management environment.
What does this mean for you and your students? If you are a Google Classroom teacher, you can use the "Create Assignment" button to make assignments for your students.
Try it Out!
Before school starts, we encourage teachers to explore our Google Classroom integration. As long as you have an existing active Google Classroom class, you can connect Science Buddies with your Google Classroom account, make an assignment, and walk through the process of receiving, grading, and returning assignments.
Trying the process before school starts gives you time to learn the ins and outs of the system and to think through what questions your students may have and how you will introduce and schedule online assignments from Science Buddies. Plus, walking through the "Create Assignment" process may spark ideas for new assignments you can make to supplement classroom learning. From background reading for classroom activities and post-activity quizzes to finding a science project, learning about the scientific method, or researching careers, you can assign Science Buddies content with the click of a button!
As a Google Classroom teacher, you can easily make science class assignments at Science Buddies. Your students will see the assignments in their Google Classroom environment, the same as always. When they click through to Science Buddies and sign in, they will be able to complete their assignment and "turn it in" to you for review or scoring.
What Can I Assign?
With Science Buddies' broad mix of free scientist-authored resources for STEM education, including hands-on project ideas and activities, lesson plans, career profiles, science news articles, concept videos, and complete project guides for science and engineering projects, if you are teaching it to your science class, Science Buddies has materials designed to help you bring the material to life in-class or to supplement and extend classroom learning.
Some of the free resources for K-12 science, technology, engineering, and math education you can assign at Science Buddies include:
These are just a few examples of the ways in which you can use the "Create Assignment" button to assign resources from Science Buddies.
We encourage you to try the "Create Assignment" button, walk through the login process that students will use, and experiment with how assignments are made, turned in, scored, and returned.
Learn More with Digital Classroom series
For additional walkthroughs of Science Buddies' Google Classroom Integration, see the following posts in our Digital Classroom series:
Be sure and bookmark the Google Classroom Integration home page. If you have questions about using Google Classroom with Science Buddies, see our Google Classroom Integration FAQ. You can reach us with feedback or additional questions at scibuddy@sciencebuddies.org.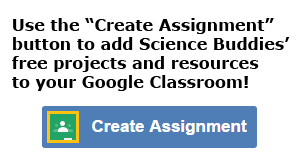 Categories:
You Might Also Enjoy These Related Posts:
Explore Our Science Videos
Squishy Circuits Introduction
Line-Tracking Robot: BlueBot Project #3