Making Connections with Science Reading Assignments
Are your students doing science research related to their science projects? Do you talk with students about world events and science news? The news feed at Science Buddies makes it easy to locate science news articles, and Google Classroom teachers can make reading assignments directly from the Science Buddies site.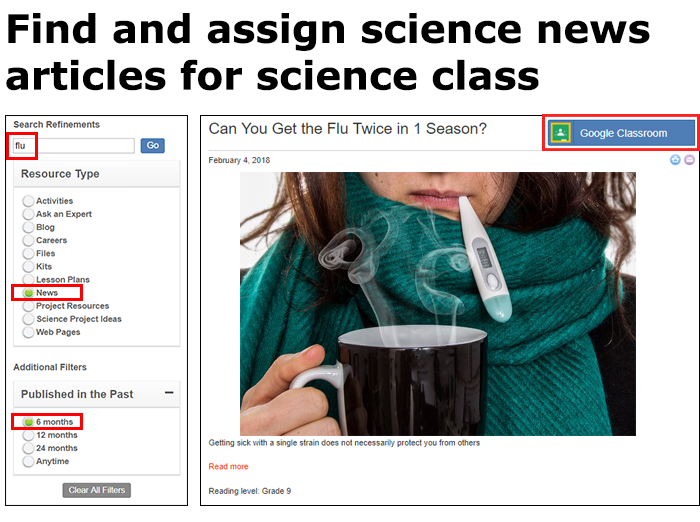 Two cropped screenshots show a search filter being used to find a news article on the website ScienceBuddies.org. The screenshot on the left shows a search term 'flu' with search filters for 'news' checked and also filtered with a published date within the past '6 months'. The right screenshot is of a news article titled "Can You Get the Fly Twice in 1 Season?" and has a Google Classroom button highlighted at the top-right of the page.
The Value of Science Reading
Whether you assign science reading to go along with in-class lessons and activities or assign reading in preparation for class discussion about science in the news, reading assignments can be an exciting and important part of the STEM classroom.
Our science news feed makes it easy to locate science articles on topics of interest from sources like Scientific American, EurekAlert, and Science News for Students. Students doing research-based science projects can be directed to search for news articles at Science Buddies, or teachers can select specific articles to share with students. Once you locate an article you want to use with students, click the Google Classroom button and choose to make either an assignment or an announcement. Select the class and fill in the information to have the assignment or announcement added to your Google Classroom.
Finding Science News Articles
There are two main ways to find articles at Science Buddies that tie in with information you are covering in the classroom:
View the news feed associated with a specific Science Project that you will be covering in class or that is related to the topic you plan to teach. Every Science Project at Science Buddies has a news feed at the bottom of the Background tab.
Use the Science Buddies search engine to search for news articles based on keywords. When using the search engine, you can filter the results based on the publication date. (The search defaults to include articles published within the last 24 months. This can be customized to include only articles published in the last 6 or 12 months or to include all articles, regardless of publication date.)
Making the Most of Science Reading
There are many ways to incorporate science reading assignments with your students. Here are a few examples of ways in which educators might incorporate science reading with their students:
My class has been talking about fires, landslides, hurricanes, and other disasters. I used Science Buddies to locate articles on each subject and assigned articles for students to read so that we could talk in more depth about these subjects in class.
My class has been talking about healthy eating and autoimmune diseases. Because November is Diabetes Awareness Month, we spent time talking about different types of diabetes. To supplement our conversation, I assigned groups of students to review and report on articles related to diabetes science.
My class is studying genetic mutations. To kickstart our class discussion, I used Science Buddies' search feature to find a recent article on gene editing and asked them to read it so that we could discuss it in class. To make sure the assignment was actionable, I asked them to write a short summary in the "comments" on the assignment in Google Classroom before they "turned in" the assignment. By creating the assignment at Science Buddies, I can easily see which students have completed the assignment using the Teacher Dashboard and can review their comments in Google Classroom.
I assign a new science article every Monday for reading to help my students become more aware of issues related to public health. I want my students to develop an understanding of how outbreaks of viruses and disease continue to drive scientists' understanding of a disease. My students have read articles about Ebola, the flu, Zika, E. coli, and other public health concerns.
As part of a unit on astronomy, I assigned a recent science news article about black holes for reading in advance of our in-class activity on black holes. My assignment included directions for responding to the reading to help them practice important reading comprehension skills.
As I finish teaching each topic, I assign a pair of students to use the Science Buddies website to find and choose a related article that involves that topic. I then ask the whole class to read the article the students have selected and be prepared for a 5-minute discussion led by the students who found the article. Winding up our thematic units with related science reading allows students to synthesize their learning and see the current and real-world relevance of the science we have covered.
With all of the news reports about air quality conditions in California due to recent fires, we did the Science Buddies project on air particles and air quality as a class experiment. To go along with the project, I had students read science news articles about air quality and look up air quality numbers for various locations around the world to compare.
We have been studying robotics and making our own simple robots in class. As part of our conversation about the ways in which robots can be used, my students were very interested in self-driving cars. I was able to find a few recent articles to assign for reading to give students additional information.
Try a Science News Reading Assignment with Your Students!
We hope these examples inspire you to find innovative ways to get your students reading more science news articles and to tie this reading in with your class assignments and science and engineering projects and activities. We would love to hear how you use science reading and Google Classroom with your students. What creative assignments have you made that involve science reading? Share your tips and any feedback you have by emailing us at scibuddy@sciencebuddies.org.
Add Science Buddies Resources to Your Google Classroom
To learn more about using Science Buddies with Google Classroom, visit the Google Classroom Integration page.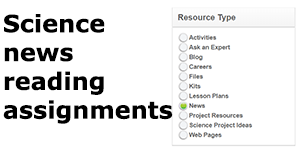 Categories:
You Might Also Enjoy These Related Posts:
Explore Our Science Videos
Gear Ratio for the Junior Solar Sprint
Volleyball Machine: 2019 Engineering Challenge
How To Curl Metals With Heat