Earth Day Any Day: Doing Fun Science at Home during School Closures (Activity #16)
Follow along with a Science Buddies parent who is using family STEM activities to keep her kids learning at home during the COVID-19 school shutdown. New posts every Monday, Wednesday, and Friday. Today's adventure... exploring solar energy by building a solar updraft tower.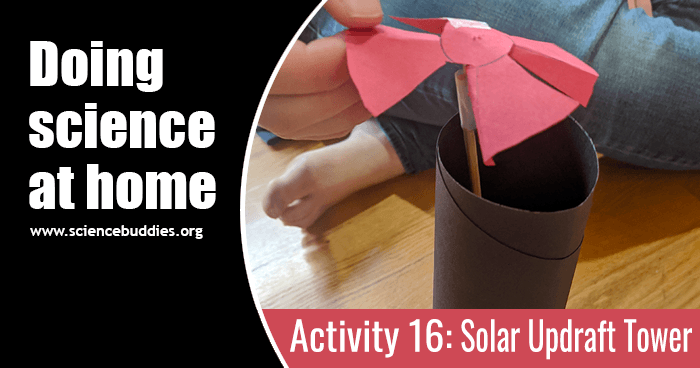 Any Day (or Every Day) Can Be Earth Day
Earth Day 2020 marks 50 years since the first Earth Day celebrations — I didn't think we'd be spending it like this! Typically, around Earth Day my kids get a big dose of nature education, conversations about reusing, reducing, and recycling, and some hands-on time doing a project that helps with local conservations efforts. But a big chunk of this happens in school. Oh man… let me count the ways I miss them going to school.
This year, Earth Day is whatever you make of it in your own home. This also means it can be any day you choose. Why get stuck on just April 22nd? In my opinion, every day is a good day to think about how to live in a more sustainable way with all the other life on our planet.
From being amazed by biodiversity to thinking about recycling and renewable energy, here are a few fun activities you can tackle to celebrate Earth Day any time you choose — including when you're all stuck at home looking for something to feel good about:
My Pick of the Day: Solar Updraft Tower
As a family we often take walks and look at nature, so I feel like we've covered the biodiversity angle of Earth Day pretty well already. As for reducing, recycling, and reusing, we've been diving into our recycling bin for materials for all sorts of activities, including the vortex air cannons we made last week. So, for Earth Day I wanted to do something about renewable energy and settled on the Build a Solar Updraft Tower activity.
I've had my eye on this activity for a while. Mostly because I'd never even heard of a solar updraft tower until my colleague Svenja wrote this activity a couple of months back, and I love to learn about new things! In the simplest of terms, these towers take advantage of the fact that the sun heats the air near the ground (think of how warm the air just above the blacktop is on a hot day), and then that hot air rises. If you create a tower to funnel the hot air, the force of the air as it rises can turn turbines, which generates electricity. It's an interesting idea, even if it hasn't been that commercially successful to-date.
When I ran the idea by my children, my seventh-grade son grasped the concept right away and was excited about it as he'd learned about convection currents in science class earlier this year. My second-grade daughter was intrigued, and a bit incredulous, that the heat of the sun could move something.
We do happen to have a heat lamp, but a quick survey of our at-home materials showed that the only construction paper in our house was too small. We solved this by taping two pieces together. We decided to make two towers, one from white construction paper and the other from black and then compare their performance. This made dividing up the tasks between the children easier as I had each kid build a tower — no fights, yay!

Both kids folded their paper into a cone shape to make the tower and then cut out the holes at the base of the tower for air to flow in. Watching my seventh-grader model the steps made it easier for my second-grader to follow along.
With the towers formed, we opted to print the propeller template out directly onto some construction paper. Understanding how to cut and fold the propeller was easy for my seventh-grader. It was significantly tougher for my second grader — she got there though!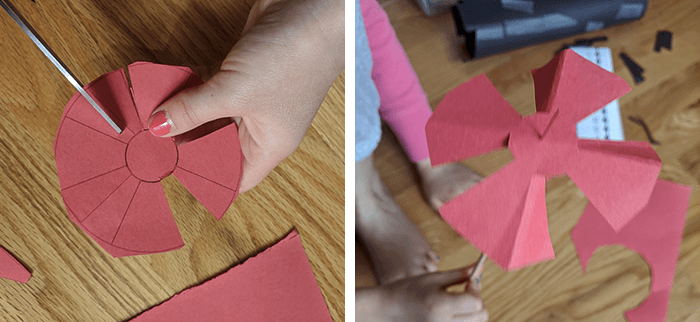 While my daughter took her time figuring out how to put together her propeller, my son taped together the bamboo skewer and needle and got the heat lamp set up.
Finally, it was time for testing the towers. Unlike in the activity, we did not measure the temperature of the air — I simply didn't have a good thermometer handy. Call me lazy, but I decided that going and searching through the box in the garage where I knew I'd find one was simply too much work.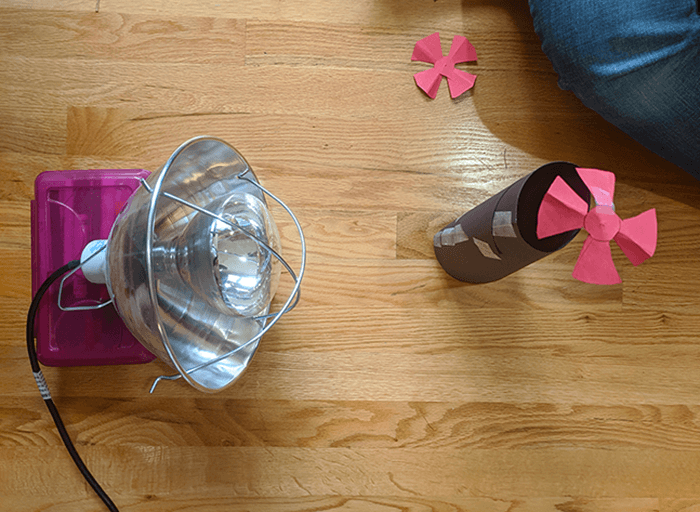 Both children correctly predicted that the air in the white tower would not get as hot, and thus the propeller would not turn as fast. Indeed, it turned a little bit, intermittently, but was rather underwhelming. I admit I got a bit worried when we put the black solar updraft tower in front of the heat lamp, and there was little-to-no turning in the first thirty seconds. But by the end of the first minute, the air had heated sufficiently, and the propeller turned at an impressive rate. Both kids were pleased with the action — and pleased to have accurately predicted what would happen with their hypothesis.
Note: kids do instinctively hope to find their hypothesis turns out to be "right." In science, we know that the results of an experiment can support a hypothesis or not, but that being "right" or "wrong" isn't the goal (or the right terminology). It is important for students to understand the value of seeing what happens with an experimental test, understanding why they are seeing those results, and using what they've learned to ask new questions and form new hypotheses.
In all, this was a fun activity that took us under an hour. The shaping, cutting, and carefully balancing of the propeller is better suited for older kids — but even my second-grader got a kick out of seeing the propeller spin. My son was interested enough in the concept to go look up real-world solar updraft towers on his own and come back and tell me more about them. I call that a total Earth Day success!
Consider Sustainability and Citizen Science, Too!
For more Earth Day inspiration, you and your kids might explore your family's use (and possible waste) of water, energy, food, and "stuff" with Google's Your Plan, Your Planet, a free, interactive, online tool. Kids will pick up all kinds of useful tips and information while engaging in science-based activities. Plus, they will learn a lot about sustainability and how small changes can add up to make a big difference!
Earth Day is also a great time to talk about citizen science and the ways in which kids and families can get involved and contribute to projects around the world. Are there ladybugs or caterpillars and butterflies in your area? Sending the kids outside to search for local species and then taking and uploading photos is an easy way to get started!
If your kids make solar updraft towers, or try any other of the Earth Day activities (on any day), post a picture of their experiment on social media and tag us. You can find us at Twitter, Facebook, and Instagram.
If this blog post was useful to you, please share it with other parents. Follow the links below to see what other science adventures we've been having at home.
View All Posts in this Series
Activity 16 - Solar Updraft Tower
A science activity log is available as a Word document or as a Google doc for online convenience. (Just choose "File/Make a copy" to save it to your Google Drive.)
About the Author
Sandra, Science Buddies' Vice President of STEM education, holds a PhD in Genetics from Stanford University and has spent the last twelve years working on science education and STEM outreach. Right now, she's stuck working from her home in the Pacific Northwest with her husband, second grader, middle schooler, and two oddly noisy gerbils. She hypothesizes her sanity will hold as long as she gets a daily dose of sunshine.
Categories:
You Might Also Enjoy These Related Posts:
Explore Our Science Videos
Reaction Rates: When Surface Area Matters! Lesson Plan Introduction
Make A Tissue Paper Parachute - STEM Activity
Stretchy Balloons! Fun STEM Activity