12 Valentine's Day STEM Activities
Give student science and engineering activities a fun Valentine's Day twist with these 12 free STEM ideas, from paper circuit Valentines to invisible ink messages and dancing candy hearts!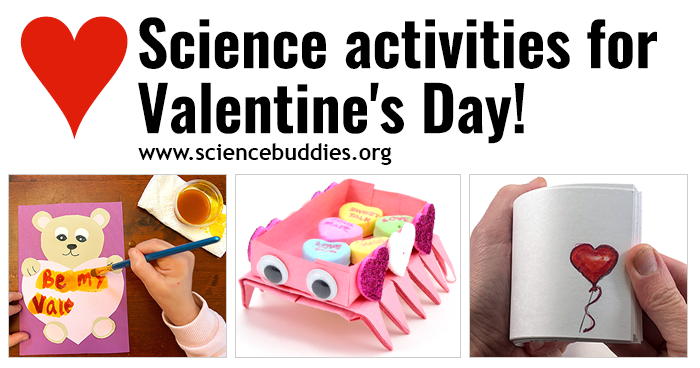 Be My STEM Valentine
With a bit of creative thinking, it's easy to give favorite STEM activities a new spin and irresistible Valentine's Day flair. See our suggestions below for an assortment of science and engineering activities that can be done with Valentine's Day in mind. From Valentine's Day cards written in invisible ink to a special delivery robot or a clever Rube Goldberg machine, these ideas are great for using science to create something unique.
Note: Science Buddies Lesson Plans contain materials to support educators leading hands-on STEM learning with students. Lesson Plans offer NGSS alignment, contain background materials to boost teacher confidence, even in areas that may be new to them, and include supplemental resources like worksheets, videos, discussion questions, and assessment materials. Activities are simplified explorations that can be used in the classroom or in informal learning environments.
Lesson Plans and Activities for Valentine's Day STEM
Think Creatively!
The suggestions above are all ways to do hands-on STEM that teaches and reinforces science and engineering learning while also being fun and fitting in with the excitement of Valentine's Day. There are many other projects, activities, and lessons you could adapt to have Valentine's Day flair. If you can use materials that are in Valentine's Day colors, you can easily cast the exploration as "perfect for February." You'll be accomplishing your curriculum goals, and your students will think they got to do something "fun" for Valentine's Day. It's a win-win!
More STEM Calendar Connections
Discover other creative STEM tie-ins on our STEM Calendar for Educators: Month by Month STEM.
Thematic Collections
Collections like this help educators find themed activities in a specific subject area or discover activities and lessons that meet a curriculum need. We hope these collections make it convenient for teachers to browse related lessons and activities. For other collections, see the Teaching Science Units and Thematic Collections lists. We encourage you to browse the complete STEM Activities for Kids and Lesson Plans areas, too. Filters are available to help you narrow your search.
Categories:
You Might Also Enjoy These Related Posts:
Explore Our Science Videos
Build a Model Recycling Sorting Machine
DIY Mini Drone Part 2: Altitude Control Circuit