Earth Science Week: Climate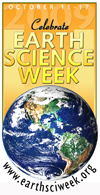 This week, we'll be looking skyward as we await the impact of the LCROSS satellite and hope for sight of the plume on the morning of October 9. But next week, our attentions will spiral back to Earth for "Earth Science Week 2009," October 11-17. Organized by the American Geological Institute and sponsored by a range of geoscience organizations, including the U.S. Geological Survey, NASA, the National Park Service, and the AAPG Foundation, the annual "Earth Science Week" aims to promote geosciences and to educate students, teachers, and families about the importance of being stewards of the Earth.
The theme for "Earth Science Week 2009" is "Understanding Climate." From daily NASA videos to a webcast in which oceanographers talk about their careers, "Earth Science Week 2009" promises a diverse array of Earth-centered activities and information.
The following Science Buddies' short-term science fair project ideas may prove useful as cornerstones for climate-related discussions and in-class projects with your students that tie in with Earth Science Week:
There are three contests students can enter as part of Earth Science Week 2009: a photography contest, a visual arts contest for K-5, and an essay contest for grades 6-9. For more information and specific contest rules and deadlines, please visit the Earth Science Week website.

Categories:
You Might Also Enjoy These Related Posts:
Explore Our Science Videos
Build a Bottle Centrifuge
DIY Light Up Unicorn Headband